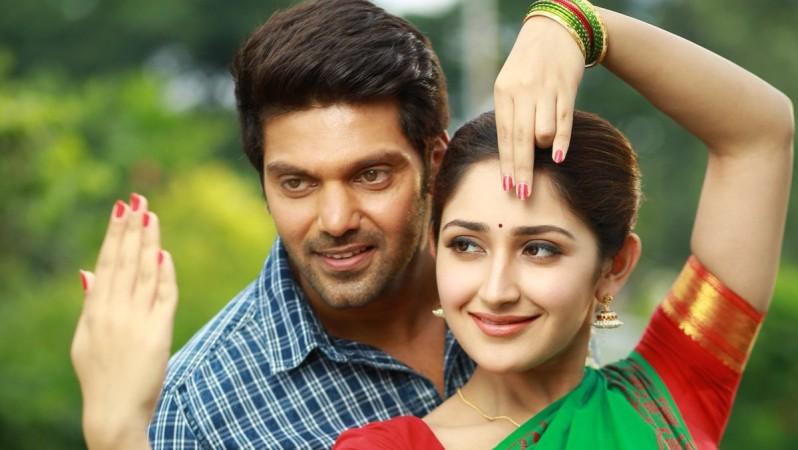 After two adult comedies Hara Hara Mahadevaki and Iruttu Araiyil Murattu Kuthu, Santhosh P Jayakumar has now tried his hands at impressing the family audience. His latest film titled Ghajinikanth starring Arya and Sayyeshaa in lead roles is a remake of hit Telugu movie Bhale Bhale Magadivoy.
Ghajinikanth has Mukul Dev, Karunakaran, Sathish, Kaali Venkat and others in the supporting cast. Balamurali Balu has composed the music and Aariyane and Hola Hola songs have already won the hearts of the audience.
The title - Ghajinikanth - is the portmanteau of Ghajini (Suriya's 2005 movie in which he suffered memory loss) and Rajinikanth's role in Dharmathin Thalaivan (Rajini plays the role of a forgetful young man). In this movie, Arya essays the role of an absent-minded hero, hence, the makers have opted for this title.
Story:
Rajini (Arya)'s parents struggle to find a suitable girl for him due to his forgetful behaviour. His father is humiliated by Sathyamurthy (Sampath Raj), who is the father of Vandhana (Sayyeshaa), over this issue. The story, however, takes a twist when Rajini falls in love with her. What happens thereafter is the crux of the movie.
Reviews:
The movie, which had a special screening for the media on Wednesday, August 1, will release on Friday, August 3. Here, we bring you the viewers' response to the film:
Manobala Vijayabalan: From title card to phone ringtone there are plenty of #Superstar #Rajinikanth reference. Crowd is going crazy.
S Abishek: A very regular, run off the mill story, but #Gajinikanth does put a smile on your face because of @sayyeshaa 's charm and @arya_offl 's innocence
Really liked how #AadukalamNaren tried his tryst with humour!
Situational comedy works but there were cringe worthy jokes too!
Haricharan Pudipeddi: #Ghajinikanth is a faithful, frame-to-frame, equally fun remake of Bhale Bhale Magidivoy. A family-friendly film with several LOL moments.
@arya_offl and @sayyeshaa click as a pair.
@actorsathish and Naren shine in the comedy department.
Cine Time: #Ghajinikanth ! A Good Come Back For #Arya A Nice Film Making From Director A Family Entertainer, Laugh Riot ! A Must Watch Your Family This Week End !
Ramesh Bala: #Ghajinikanth [3/5] : A Total Fun Ride..
Hero @arya_offl 's Mental diversion condition provides ample comedy situations..
With his innocent face, he is able to play the title role convincingly..
Another winner for @actorsathish after #TamizhPadam2
@actorkaruna is gud too!
sayyeshaa gets a full-fledged city gal role..
Her good looks justify Love-at-first sight by the hero..
A commendable outing for her..
Seasoned Actors play the supporting roles.. They contribute well..
Kaushik LM: #Ghajinikanth 2nd half - Peaks in comedy when @actorsathish, actor Naren & @kaaliactor hold center stage. Those sequences clicked well with the audience..
The hero somehow works around his memory loss handicap to succeed in his love..
#GhajinikanthAudiencePremiere
sridevi sreedhar: Last night watched d premiere of #Ghajinikanth A perfect film for families & kids! The makers navigate the tricky genre of slapstick comedy without it coming across as crass or buffoonery! One of this year's most enjoyable film I recommend u make the time for it @StudioGreen2
Manigandan K R: #Ghajinikanth works big time as a comedy entertainer. @arya_offl has a big hit in #Ghajinikanth. @sayyeshaa stamps her class in this film. Proves with this performance that she is among the finest actors.
Rajasekar: #Ghajinikanth - A faithful remake of super hit #BhaleBhaleMagadivoy. @arya_offl repeat his 'Boss Engira Baskaran' cool dude image, @sayyeshaa looks super gorgeous and present throughout the film. With Ghajinikanth, @santhoshpj21 that he can also make family comedy entertainer!