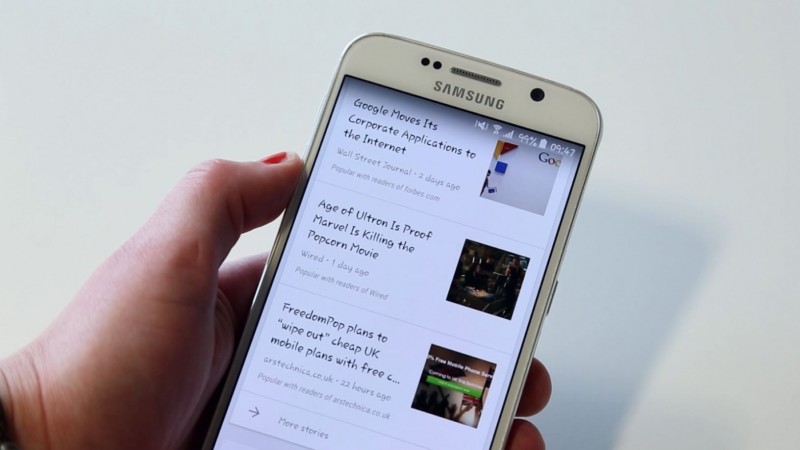 Samsung and Apple have prominent presence in the smartphone market and the two tech giants are constantly trying to outperform each other. The two were pitted against one another in a test conducted by tech site Tom's Guide and the South Korean company emerged victorious.
Samsung S6 was declared as the world's fastest phone, while Apple's iPhone 6 was titled the third fastest smartphone in the world. LG G4 came in second, with the fastest camera-open and storage benchmark score.
According to a report published by the site, Samsung topped six of the nine assessments for the fastest smartphone in the world. The biggest advantage Samsung S6 had over its competitors was its home-grown octa-core Exynos 7420 processor based on 14nm architecture, advanced LPDDR4 memory and the fastest storage format called UFS 20.
To give credit where it's due, Apple's iPhone 6 was the oldest phone in the test. Its specifications on paper seemed to be the weakest amongst the competing smartphones. However, it performed surprising well in some of the sectors, emerging as the winner in the real-world gaming test and second in the PDF load-time score.
The biggest let-down was Nexus 6, a phone that was hyped greatly but finished fifth (overall). The Google flagship came last in opening a PDF, camera-open and gaming tests.
This is not the first accolade Samsung S6 has won this year. The world's fastest phone also came out on top during DXO Mark's camera test, conducted in April this year.
"Achieving outstanding scores in DxOMark Mobile industry standard tests, the Samsung Galaxy S6 Edge becomes the new top-ranked device in our database. In fact, Samsung now occupies the top two spots for Mobile image quality with the Galaxy Note 4 also posting impressive results," the website noted.
Samsung also reclaimed the title of the world's largest smartphone maker for a second year in a row. According to data from Strategy Analytics (via The Guardian), the South Korean company overthrew its rival Apple after shipping a whopping 83.2 million smartphones in the first quarter. Apple trailed in second with 61.2 million smartphones shipped during the three-month period, ending March. Lenovo-Motorola finished a distant third with 18.8 million smartphones shipped.