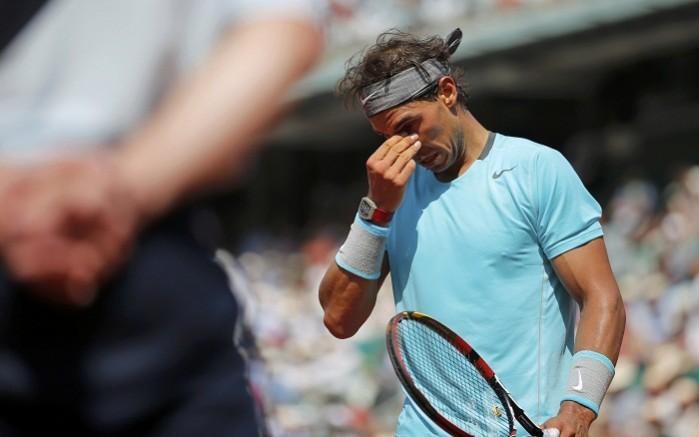 World number one Rafael Nadal faced a shocking second round exit from the Gerry Weber Open by going down against Dustin Brown of Germany in straight sets on Thursday.
Nadal, playing his first match on grass after winning his ninth French Open title, proved to be no match for the 29-year-old German. Brown totally outclassed the Spaniard in the second set, as he raced to a 5-0 lead after winning the first 6-4.
The top seeded managed to hold his serve in the sixth game, but the home-hope wrapped up the contest on his serve. Brown gave no opening to the 14-time Grand Slam champion and allowed him to win only 10 points in the second set.
"I've had a lot of great wins before, but this was my first time playing against a World No. 1, at home in Germany and on grass - my best surface," said Brown. "Everything came together. I tried to play my game as aggressively as possible."
"I took away the big things in (Nadal's) game that make him the unbelievable player that he is," he said. "I hit a lot of big serves. I had a plan and it worked out."
Nadal had earlier said that he is pitted against a "very dangerous" opponent in his first contest on grass and he maintained that after the match. The man from Mallorca added that he tried his best against the big-server Brown, but it wasn't the smoothest of the transitions from clay to grass.
"It was the worst draw possible against a player like this. It's very difficult to talk about the match because I don't know what to say. I didn't play. My opponent always served over 200kph with his first and second serves. So, that can happen on this surface if you face an opponent like this."
"I tried but my serve was not good enough," he added. "At the same time he changed the dynamic completely. For four games he really didn't put many returns on the court and then suddenly he was playing winners from the return. So, it's difficult to analyse these kinds of matches."
"I lost today because my rival was playing better than me," said the 28-year-old. "And at the same time, as I said yesterday, the transition from clay to grass is difficult, especially when you arrive a little bit tired and not at 100 per cent. But I tried my best."
Meanwhile, Roger Federer survived early scare and prevailed over Joao Sousa 6-7(8), 6-4, 6-2 to move into the quarterfinals at Halle. After losing the first set on tiebreaker, the Swiss maestro rallied back in the second to level the encounter and take the match into the decider and won in one hour and 50 minutes.
"It was slightly frustrating at times clearly, but nevertheless I served well and kept on doing my thing," said Federer. "It was important to stay calm and actually I think it gives me more confidence winning this way. I had to stay calm, fight through the match and find a way and then the last set and a half were much better. So, I'm actually pretty happy now."