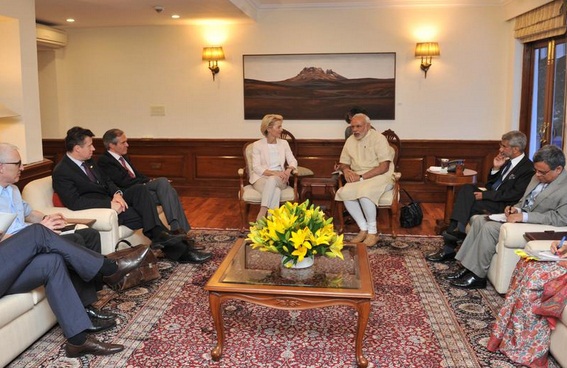 Indian IT experts who are experienced in fighting cyber crime can get a chance to go to Germany to help the government ward off cyber terrorism.
German Defence Minister Ursula von der Leyen, who met Indian Prime Minister Narendra Modi on Wednesday, has requested India to sent IT experts to Germany to attend an international conference on cyber warfare later this year.
Germany is plagued with the problem of Botnet virus affecting millions of computers across the country, and Ursula pointed at India's teeming human resources skilled in Information Technology to help fight the cyber warfare.
The Indian IT experts' inputs at the conference can also make it into Germany's White Paper on National Defence Strategy for 2016.
The German defence minister personally made the request for Indian IT experts to Modi, calling it a 'win-win situation', The Indian Express reported.
On the other hand, Modi invited German companies to engage with opportunities of defence manufacturing and defence research and development in India, according to a statement by the prime minister's office.
On a three-day-long visit to India, Ursula also backed Modi's "Make In India" campaign.
The two countries also discussed cooperation in the defence sector.
1. Defence Minister @manoharparrikar & his German counterpart Ursula von der Leyen hold talks to promote defence ties pic.twitter.com/CCMix6uuys

— Sitanshu Kar (@SpokespersonMoD) May 26, 2015
2. Cooperation between the Armed Forces & partnering of #Germany in #MakeInIndia in Defence Sector were discussed. pic.twitter.com/oXTH2uERIn — Sitanshu Kar (@SpokespersonMoD) May 26, 2015
3.Both sides exchanged views on global & regional security scenario; supply of state-of-the-art equipment/technology pic.twitter.com/DHz8QCeojD

— Sitanshu Kar (@SpokespersonMoD) May 26, 2015