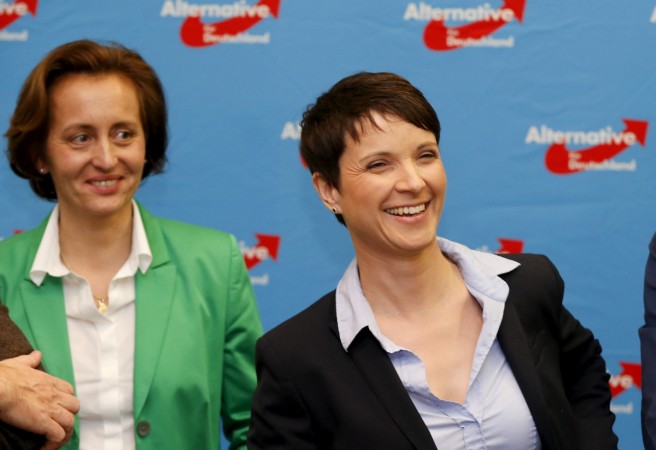 UPDATE 16:25 p.m. IST -- Angela Merkel's spokesperson has said she will stay her refugee policy course despite her party suffering a drubbing in regional elections, according to AFP.
Original story:
German Chancellor Angela Merkel's party suffered a drubbing in regional elections in two of three states in the country Sunday, while the right-wing and anti-immigrant Alternative for Germany (AfD) registered a successful show. The polls are being seen as a verdict against Merkel's open-door policy for refugees, which saw over one million immigrants enter Germany in 2015.
Merkel's Christian Democrats (CDU) party suffered significant losses in the Baden-Württemberg and Rhineland-Palatinate states, but remained the largest party in Saxony-Anhalt. However, the AfD put up impressive results, winning entry to all three state parliaments, according to Deutsche Welle.
"We are seeing above all in these elections that voters are turning away in large numbers from the big established parties and voting for our party," AfD leader Frauke Petry was quoted as saying by the Associated Press.
The CDU lost ground even in some of the party's traditional support bases, according to local media. The AfD won support on its anti-immigration campaign despite controversial comments from party leaders, including calls for "firing at" illegal refugees trying to enter the country.
The results showed the possibility of the right-wing party winning seats in the national elections slated to be held next year.
"These results are a serious rebuke for Merkel and the most pronounced protest vote we've seen so far," analyst Holger Schmieding told Reuters.
The electtions also showed a highly polarised voter base on the issue of immigration, with a BBC analysis pointing out that CDU candidates who tried to distance themselves from Merkel's refugee policy lost votes, while candidates of left-wing rivals who supported her position recorded a positive performance.
The Green Party, which is said to support Merkel's immigration policy, also registered a strong performance in Baden-Württemberg, thus reflecting the mixed signals by voters on the issue that is raging across Germany.