As Germany gears up for its federal election on September 24, Sunday, Europe's most powerful nation's Chancellor Angela Merkel is poised to win the polls, making it a historic fourth term.
Merkel, 63, has served as Gemany's chancellor for the last 12 years, and going by the prediction polls, she is set to recapture the highest percentage of votes and and seats for her right-of-centre Christian Democratic Union (CDU).
Merkel's CDU is set to reemerge as the single-largest party this polls, owing to the German chancellor's charge of the country's economy through a turbulent phase for Europe. This is also the first time in more than half a century that a far-right party is likely to enter the parliament.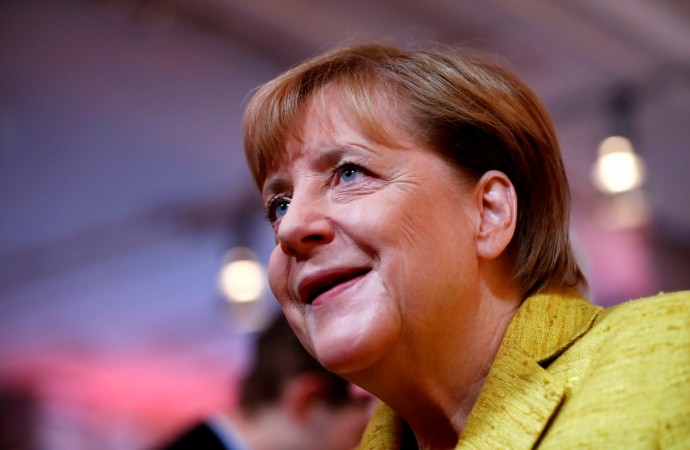 German polls before the voting showed it would be harder for Merkel this year to form a ruling coalition than the last polls, considering the fracturing of the country's political landscape.
Merkel's conservatives had suffered serious setbacks to the hard-right Alternative for Germany (AfD) in the regional votes last year. The AfD had profited big from the lingering resentment at Merkel's 2015 decision to open the country's border for over 1 million refugees.
With nearly a third of the voters undecided in the run-up to the election, Merkel and her primary rival — centre-left challenger Martin Schulz of the Social Democrats (SPD) — urged the Germans on Saturday to get out of their homes to vote.
"We want to boost your motivation so that we can still reach many, many people," Merkel was quoted by Reuters as saying in Berlin before she headed north to her constituency for a final round of campaigning.
However, with the refugee situation considerably under control and Merkel being touted as the leader of the free world, the chancellor has bounced back and has shown tremendous vigour in her election campaigns, presenting herself as an anchor of stability in an uncertain world.
Merkel, in her campaigns, has resolved to work to equip the economy for the digital age, to assess and control future migrant crisis, to bring down unemployment to 3 percent and to realign and defend a Western order shaken by United States President Donald Trump's election win last November.
Here's an interactive graphic of all you need to know about the German polls: