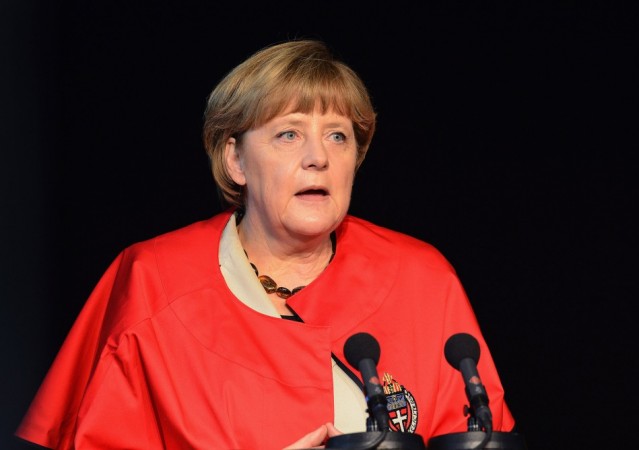 Germany witnessed sharp fault lines on Monday as demonstrations against 'Islamisation' in several cities were met with displays of protest against the extremism.
Thousands of Germans gathered in Dresden on the call by The Patriotic Europeans against the Islamisation of the West (Pegida) to protest what they claim is the 'Islamification of Europe'. Similar protests were also held in Berlin, Cologne and Kassel.
As a mark of protest against the anti-Islam protests, several institutions such as the Cologne Cathedral and the Brandenburg Gate turned off lights on Monday.
"As a highly visible protest against xenophobia, racism and exclusion, the outdoor lighting of Cologne Cathedral will therefore be turned off on January 5 for the period of the demonstration," the statement from the Cathedral said.
German Chancellor Angela Merkel had urged citizens to shun the anti-immigration protests after the large demonstrations in December, citing that the protesters had "prejudice, coldness, even hatred in their hearts".
Despite her call, almost 18,000 gathered in Dresden.
The protests come at a time when European nations are seeing an increasing influx of immigrants from the troubled Middle East.
The counter demonstrations may also pose a challenge for the administration given opposing views on the issue.
German Interior Minister Thomas de Maiziere also gave a paradoxical statement when he said that PEGIDA should not dominate political agenda, but also raised the issue of the 'danger' of Islam.
"It's new, it's concerning, but we should not be dominated by PEGIDA when we discuss our political agenda," Maiziere told CNN about the protests, while also stating that protesters rasied pertinent questions.
"They ask: 'Is there an end of asylum seekers, how dangerous is Islam for our society, what about the fight against IS (ISIS) -- can this be successful?' These critical questions have to be faced, have to be answered," de Maziere said.
A recent poll held last month showed that 34% of the respondents in Germany felt the country was becoming 'increasingly Islamicised'.