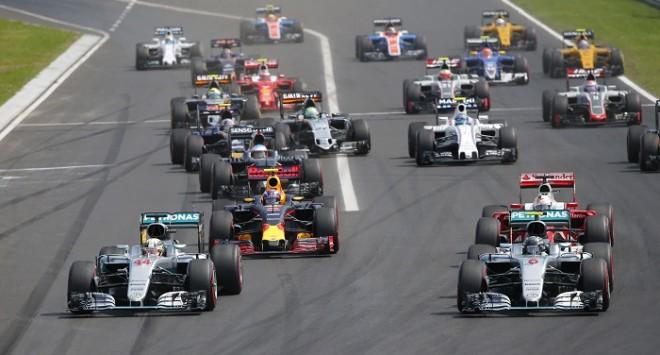 The month of July has been tedious for Formula One drivers, as they prepare for a fourth race within the space of 28 days. The German Grand Prix, which starts with the practice sessions on Friday, is the last one before they embark on a summer break of a month.
There will be great support for the home favourite Nico Rosberg, who has seeon his lead fall apart in the last few races. Rosberg's Mercedes teammate Lewis Hamilton has taken full advantage, and currently leads the standings by six points, despite a poor start to the season. The two Mercedes drivers have dominated the F1 season so far, and the pattern in Germany could be the same, unless one of the Red Bull or Ferrari drivers challenge the duo.
Talking about possible challengers, Red Bull's Daniel Ricciardo has been one of the consistent drivers of the season, though, he has not been able to cross the chequered flag first. This German Grand Prix is extra special for the Australian as it will be his 100th grand prix start, and a win in Germany would be the icing on the cake.
Rosberg and Hamilton have been so impressive this season that Ricciardo will have to wait for mistakes from the duo. The Red Bull driver can take inspiration from some of the races in the recent past, where Rosberg and Hamilton have suffered bad starts.
Other drivers may be desperate to compete against the Mercedes drivers, but Rosberg and Hamilton have a personal battle on their hands for the drivers' championship. After having overtaken Rosberg, Hamilton will be keen to stretch that lead. The world champion wants to continue his impressive form in the German Grand Prix. Hamilton has won five of the last six races.
"It would be great to get another win there for all our Mercedes employees and for the team, too, before the summer break. The last few races have been good for me, so if I can continue that form into this weekend I'll be in good shape," Hamilton told reporters.
Though the focus for the German Grand Prix will be on Ferrari, Mercedes and Red Bull drivers, McLaren's Fernando Alonso will look to his previous successes on the circuit. Among the current crop of drivers, Alonso has been the most successful driver in the German Grand Prix, with three wins in 2005, 2010 and 2012.
"It's been a good circuit for me in the past - I've had three victories on this circuit. There's usually a good atmosphere there and there's something special about the feeling of it being the last race before the summer break - everyone is upbeat and pushing hard because they want to finish the first half of the season on a high," Alonso said.
German Grand Prix schedule
First Friday Practice Session: 10:00 a.m. local time, 1:30 p.m. IST, 5 a.m. ET
Second Friday Practice Session: 2:00 p.m. local time, 5:30 p.m. IST, 9 a.m. ET
Final Practice Session (Saturday): 11:00 a.m. local time, 2:30 p.m. IST, 5 a.m ET
| | |
| --- | --- |
| ountry | TV Broadcaster |
| India | Star Sports 4, Star Sports 4HD |
| US | NBC |
| Canada | TSN |
| United Kingdom | BBC, Sky Sports |
| Middle East and North Africa | Bein Sports Arabia |
| Australia | Network Ten |
| Germany, Italy | Sky Sport |
| France | Canal+ |
| Asia | Fox Sports |