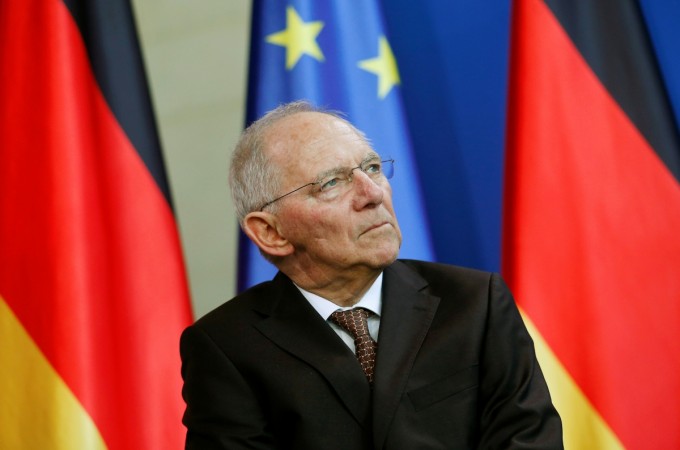 German Finance Minister Wolfgang Schaeuble denied on Sunday that he had said Greece would have to leave the euro zone if it failed to implement economic reforms.
Schaeuble said in an ARD television interview that Greece would not have problems if it implemented agreed reforms, but would if it fails to carry these out.
"I never made any ('Grexit') threats," Schaeuble told ARD's Bericht aus Berlin programme just before the network played recent comments in which he said Greece was "not yet over the hill" and the "pressure needed to stay on" Greece or it "couldn't stay in the currency union".
Schaeuble said he was giving Greece the same message that it has received throughout its crisis from institutions such as the International Monetary Fund. "If Greece carries out the reforms, there won't be any problems. If they don't, then there will be problems."
Schaeuble added: "I'm confident. Greece is on the right path."
Schaeuble also said he expects the IMF to participate in a third bailout package for Greece after German magazine Der Spiegel said the Fund would contribute up to 5 billion euros ($5.3 billion). The IMF declined to comment.
"I assume it will," Schaeuble said when asked about the IMF's participation. He noted the IMF had said in 2015 it would participate if Greece fulfils its reform targets. "I assume that can be achieved in the coming weeks."
It remains unclear whether the Fund will be involved in the programme, and this is likely to be one of the main talking points when Chancellor Angela Merkel and IMF Managing Director Christine Lagarde meet on Wednesday.
Germany's government, gearing up for what is forecast to be a tight national election in September, opposes debt relief for Greece as sought by the IMF. Still, Berlin says the current programme can only continue if the Fund joins in.
"European law does not allow (national) debt relief," Schaeuble told ARD ahead of a meeting in Brussels on Monday with euro zone finance ministers. "Greece has to become more competitive. That's the what the programme is for."
A spokeswoman for Schaeuble had said on Friday that the German government has always considered IMF participation to be essential in Greece's third aid-for-reforms package.
The Fund has insisted on debt relief and precautionary fiscal measures to ensure that Athens can meet its fiscal targets before it will consider participating in the bailout. Without new policies, the IMF believes Greece can only meet a primary fiscal surplus target of 1.5 pct of gross domestic product by 2018.
($1 = 0.9424 euros)