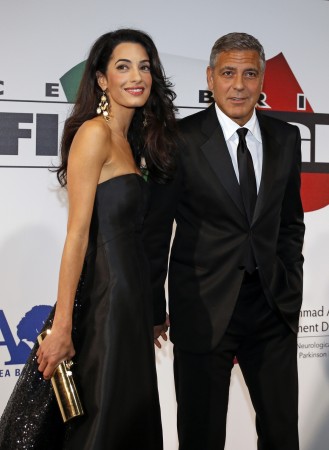 Here's news that's a reason for heterosexual men around the world to celebrate, and everyone else to mourn.
Hollywood's most eligible bachelor, 53-year-old George Clooney, has tied the knot with his lady love, Amal Alamuddin, a human rights lawyer.
The wedding took place in Venice on Saturday and was attended by celebrities including Bill Murray, Matt Damon, Ellen Barkin, Anna Wintour, John Krasinski, Emily Blunt and singer Bono, according to a report in New York Daily News.
Reports suggest, the wedding was held in a storybook setting off a romantic Venice canal with extreme privacy. The couple were brought to unison by Walter Veltoni, the former mayor of Rome.
The news of the wedding was announced by Clooney's spokesman, which is the sole communication so far.
"George Clooney and Amal Alamuddin were married today in a private ceremony in Venice, Italy," said the actor's spokesman Stan Rosenfield.
After his divorce from former wife Talia Balsam in 1993, Clooney had declared his aversion to marriage publicly. However, he showed no signs of nervousness prior to his wedding when he was seen sporting a black tuxedo, white shirt and black tie before taking a taxi to Hotel Aman.
The wedding was scheduled for just after the beautiful Italian sunset. Clooney could be seen waving and smiling at hundreds of fans who had gathered along the Grand Canal to get a glimpse of the star's wedding.
On the previous night of the wedding, Clooney's 36-year-old bride, Alamuddin, had spent an all ladies night at the 16th-century palazzo. While the couple was chased by paparazzi for a bit, none of the media could manage to even get close to the wedding venue as high privacy was ensured for the couple throughout.
According to reports, even friends and family who were on the guest list got a list of "do's and don'ts" at the wedding.
"We have to work very hard to keep our pictures OUR pictures," the couple wrote. "If you see someone taking a photo with a phone... you can help by notifying security."
Clooney and Alamuddin started dating last year in October and got engaged in April this year. There are media speculations that the wedding will be followed by another ceremony on Monday, however, there are no confirmations.