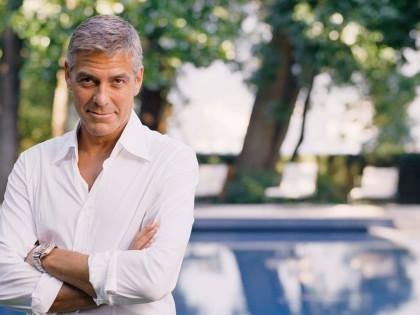 In a recent Esquire interview, George Clooney criticised Leonardo DiCaprio and Russell Crowe but was all praise for Brad Pitt. The "Gravity" actor later offered a clarification for his comments.
George Clooney may be one of the most loved actors of Hollywood but there are a few people in the film industry the actor doesn't approve of all that much. In a recent interview with Esquire, the "Gravity" actor didn't have very nice things to stay about two of his biggest Hollywood peers - Leonardo DiCaprio and Russell Crowe.
In the interview, Clooney recalled playing basketball with the Titantic star in Cabo San Lucas and claimed that Leo talked a big game only to lose big-time to the gray-haired hunk.
"The discrepancy between their game and how they talked about their game made me think of how important it is to have someone in your life to tell you what's what," Clooney told Esquire. "I'm not sure if Leo has someone like that."
He then opened up about his fight with Crowe in 2005 when Crowe bashed Clooney in front of the media.
"He picked a fight with me. He started it for no reason at all," Clooney told the mag. "He put out this thing saying, 'George Clooney, Harrison Ford, and Robert De Niro are sellouts'...He really went after me. And so I sent him a note going, 'Dude, the only people who succeed when two famous people are fighting is People magazine. What the f--k is wrong with you?'"
Clooney then went on to praise Brad Pitt calling him the biggest star in the film industry. He said he admired the "Meet Joe Black" actor for handling his success so well.
"He's still a giant movie star because you can't get to him," he added. "That doesn't mean that I don't think of him as incredibly talented and smart and all those things. But you also can't get to him."
In a recent statement, Clooney's publicist offered a clarification for the actor's comment saying the "Leo Basketball" statement was made in all good spirits.
"The Leo comments were all made in fun about basketball," the Descendants star's publicist tells E! News. "Not about Leo's life. The writer and George were laughing about basketball buddies."
Thought the publicist clarified the DiCaprio remark, he made no reference to what Clooney said about Crowe.