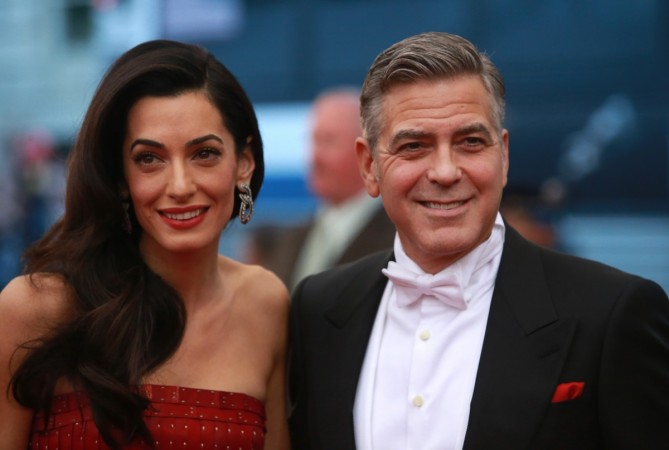 George Clooney and Amal Alamuddin are affectionate, proud of each other and mostly gush while talking about their marriage. Clooney, in the role of a devoted husband, recently spoke about his two year wedding anniversary and revealed how they spent their special day.
Clooney said he made dinner and added that it was all very romantic and "civilised." The Money Monster star seemed satisfied with his efforts, but stated that his wife wasn't so impressed by his cooking skills.
According to the actor, his 38-year-old wife is never quite content with his efforts in the kitchen, so he does fool her once in a while.
"If I slap something together—spaghetti and meatballs—she doesn't know that it comes in a jar, so I can just fool her with that one," he told E!
Interestingly, Clooney proposed to Alamuddin after he prepared dinner for them. During his appearance on The Ellen Show, the 55-year-old actor said that he planned their evening in meticulous detail and his plan almost went bust when she didn't notice the subtle things.
He said, "I had the ring hidden behind her. I had music playing—my Aunt Rosemary's gonna sing 'Why Shouldn't I?' Everything was planned out, and I've cooked dinner. And she comes in and she's just come back from London. And she's, you know she's—usually she'll dress up and now she's like maybe we'll just order in and I go, 'No, no, no, I've made dinner.'"
The couple was recently seen at the Motion Picture Television Fund's "Night Under the Stars" benefit in Los Angeles on Saturday night. Clooney, who hosted the event, said he's proud of his wife and added that there are dangers that come with her job.
While talking to reporters on the red carpet, Clooney said his wife's decision to defend 19-year-old Nadia, a young Yazidi girl, who was captured and made a sex slave by Isis, was nothing short of "heroic."