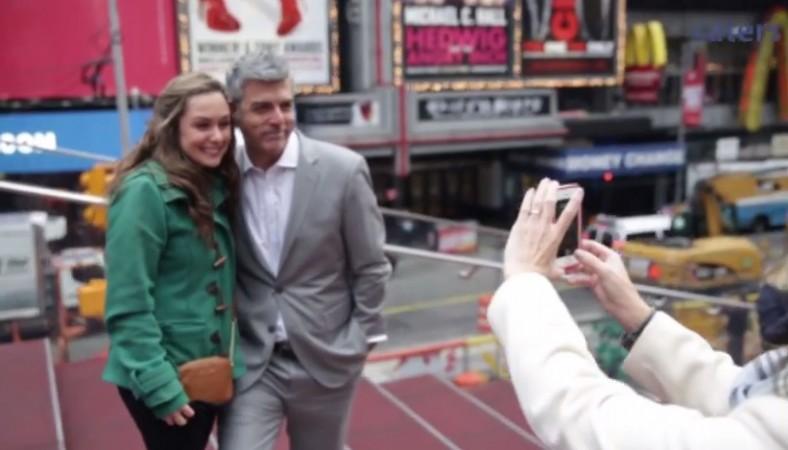 David Siegel is the perfect bachelor; he has a winning smile, chiselled features and the gravitas, which when put together makes him the next best thing to George Clooney. When he walks down the street, most movie buffs stop and stare for a while, just to make sure their eyes aren't playing a trick on them. However, Siegel still remains unlucky in tracking down his Amal Alamuddin.
Having worked as a professional popular George Clooney lookalike for the last six years, Siegel has managed to maintain a comfortable lifestyle, thanks to his uncanny resemblance to the "Ocean's Eleven" star. Siegel's mother, who is an avid reader of People's magazine, entered his picture for their celebrity lookalike contest some years ago, and although he narrowly missed the first place, his career took off from there.
After contacting a celebrity lookalike agent in 2009, he landed his first gig in Las Vegas and since then has taken home about $3,150 for every appearance at corporate events, grand openings, high roller parties and surprise birthday parties for Clooney mega-fans.
Siegel, who copies the Hollywood A-lister's every move, has been looking for an Amal Alamuddin lookalike to partner with ever since 53-Year-Old Clooney's recent nuptials to the British-Lebanese lawyer.
"As a George Clooney impersonator, I can't help but to pay attention to everything Clooney does, it's an obsession," he related to the Daily Star. "My reaction to the news that he was going to marry Amal was, quite seriously, 'I've got to go out and find my lookalike wife too', my livelihood depends on it."
The Queens native, who prides himself on having perfect symmetry with the three time Golden Globe Award winner, says that his formerly lucrative career has taken a nose-dive since no one wants a solo George Clooney lookalike. Although he began his search for his "better half" months ago, he has been unlucky in finding an Alamuddin to his Clooney.
In the video, Siegel can be seen trying to convince a young woman that she could be his "Amal" as she looks very much like the silver fox's 36-Year-Old wife. Although she looks pleased, it is yet to be seen if Siegel would be able to convince her or any other Alamuddin lookalike to join him in future gigs.