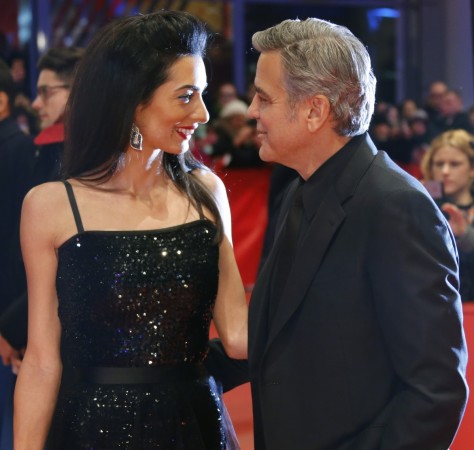 George Clooney and Amal Alamuddin seem to be in love and in a perfect marriage. Unlike reported by many websites, it looks like the couple have no marital issues at all. At least that's what the actor's latest confession in an interview reveals.
The 54-year-old actor very subtly put divorce rumours to rest and silenced all haters when he recently spoke to Hello Magazine. The "Tomorrowland" actor claimed that he and his lawyer wife never spend more than seven days apart and no matter where they are, they ensure to make time for each other.
"We have a rule whereby we are never apart for more than a week. We also stay in touch via social media so we try to keep close even if we're in different parts of the world," the actor confessed.
And he didn't even shy away from sharing that he is completely in awe of his human rights lawyer wife. "Everything about Amal attracted me to her. The thing which really impressed me the most about her was how incredibly smart she is, and I've never had so many great discussions as I've had with her. She's also beautiful and elegant and someone I knew I wanted to spend my life with," he said.
The actor also said that since they have a place both in London and Los Angeles they can plan things better and the arrangement is working fabulously for the two of them. "We have a place in London now where it's easy for us to spend a lot of time together and I can work on new film projects -- writing, reading scripts -- or we can go to Lake Como or spend time in Los Angeles when I need to have meetings for my acting work, or hang around with some of my friends. It takes some planning but it's actually been working out very well for us. She also looks great on the red carpet!" Clooney reportedly shared.
Clooney made it very clear with his words that his marriage to Alamuddin is nothing less than perfect when he said that they enjoy each other's company. And this, obviously is contradictory to all those divorce and separation rumours that have been hovering over the celebrity couple's marriage.
"We have a very strong connection and she's an extraordinary woman doing great work. We're both committed and share a common concern for causes like the refugee crisis, but what really brings us together as a couple is the fact that we're good friends and we enjoy each other's company," he said.
It looks like Clooney fans can be happy as it seems like the actor's marriage to Alamuddin is doing just fine.