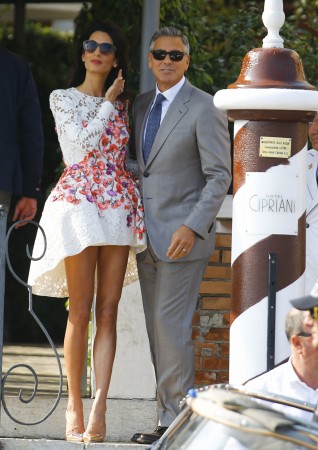 A new report doing the rounds notes that newlyweds George and Amal Clooney are gearing up to adopt a child from Syria, so as to highlight the plight of orphans in war-torn countries.
Clooney and his wife are reportedly impressed with how Brad Pitt and Angelina Jolie are managing their adopted children, and he wants that for himself and Amal, reports noted, citing a Woman's Day source.
Jolie and Pitt have three adoptive children -- Maddox, Zahara and Pax.
However, Gossip Cop proved the story false, wondering why "anyone would think a random Australian tabloid would break baby news about George and Amal Clooney." A representative for Clooney also said the website that the story was "100 percent fabricated."
Clooney and Amal got married in Venice in September, and they have no children from previous relationships.
Even if the Clooneys had wanted to adopt a child from Syria, it wouldn't have been as easy task, as Syria does not allow international adoption.
"Syria, as a Shari'ah law country, does not recognize or provide for adoptions of Muslim children," the U.S. Embassy in Damascus wrote on its website. "Several attempts by U.S. prospective adoptive parents have failed, although technically some provision was made for certain Christian denominations to adopt."
Adoption agencies too do not encourage adopting from war-torn countries, as it's tough to clarify if the children are orphans or just separated from parents.
"When there's so much upheaval in a country, the kids may be separated from parents, but that doesn't mean that these are kids who are available for adoption," said Kris Faasse, vice president of clinical operations for Bethany Christian Services, told Today earlier this year.
"We have to slow down... we can't just swoop in and say, 'We will adopt them,' because they may have living parents, they may have living relatives."
As per UNICEF data, more than 3 million children were affected by the conflict in Syria, and over 10,000 children have died as a direct result of the country's civil war.