Mahindra-owned Italian car design firm Pininfarina has taken wraps off the Fittipaldi EF7 Vision Gran Turismo at 2017 Geneva Motor Show. The Fittipaldi EF7 has been developed by twice F1 champion and Indy 500 champion Emerson Fittipaldi.
Also read: Audi Q8 sport concept unveiled as forerunner to SQ8 performance SUV
The ultra-light, all carbon-fibre supercar is the combined effort of Fittipaldi, iconic Italian design company Pininfarina and race-bred German engineering firm HWA AG. The EF7 is also Fittipaldi's dream to produce a car with fierce track-racing capabilities, for drivers of all skill levels.
"I have tried for years to explain to others what it truly feels like to be behind the steering wheel of a championship racecar. There is adrenaline and elation all rolled into an awe-inspiring inner fulfillment that leaves you craving for more. This is what our dream team created in the EF7 Vision Gran Turismo by Pininfarina," said Fittipaldi.
Limited to just 25 units, the Fittipaldi EF7 Vision Gran Turismo is powered a brand new 4.8-litre V8 naturally aspirated engine mated to a six-speed HWA AG gearbox. The mill develops 600bhp and 420Nm of torque. Both engine and gearbox are single manufacturer-made and seamlessly integrated. The carbon fiber monocoque is a specially designed top notch safety for both driver and passenger.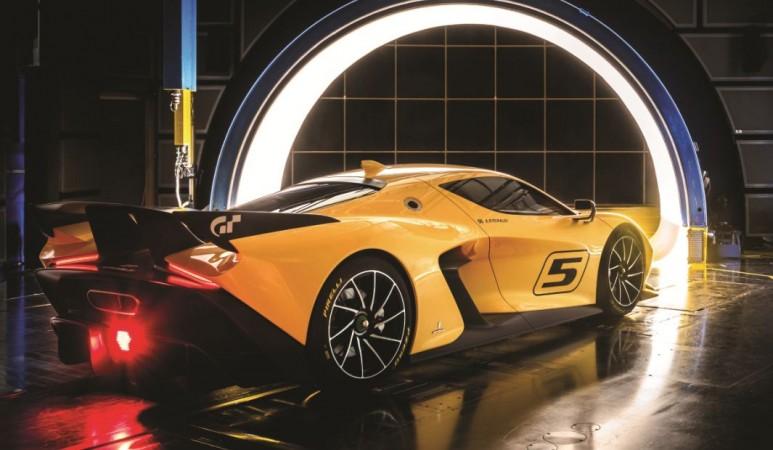 Its sleek yet angular styling is not typical to the Pininfarina design philosophy. A hint of Ferrari in some of the EF7's details is evident. Aerodynamic elements are highlighted in contrasting carbonfibre while the rest of the car is draped in Brazilian yellow. The deep front splitter, prominent rear wing and diffuser combination, and side skirts adds sportiness for the entire exterior.
Every EF7 owner will get personal coaching by Emerson Fittipaldi himself and move up a driver-training ladder designed by the racing champion. In addition, owners will be able to join the Fittipaldi Racing Club which will provide VIP high-performance driving and racing experiences at some of the world's premier racing circuits, led by Fittipaldi and other racing professionals.