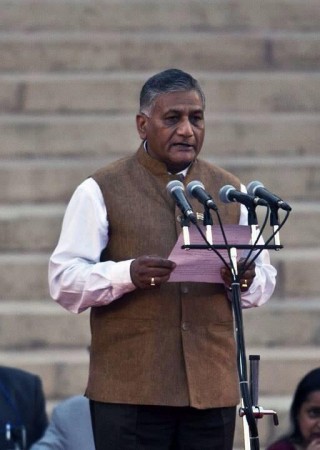 Not long after General VK Singh, former Army chief and now a minister of state, had a showdown with the last government over his date of birth, has now been caught in another controversy that not only embarrasses the new BJP government, but also pits him against it.
The latest issue dates back to 2012 (as chronicled in a timeline by NDTV) when Lt General Ravi Dastane had taken the government to court alleging favoritism in the selection of General Dalbir Singh Suhag for the post of Army Commander, and he referred to a show-cause notice by Singh who had alleged that an army unit under Suhag had committed an illegal raid and burglary in the North East. Gen Singh had sought a disciplinary ban on Suhag and had stalled his promotion.
VK Singh, minister of state for development of North East and External Affairs, stirred a row when he took to his Twitter handle on Tuesday to justify his action against General Dalbir Singh Suhag, who is slated to take over as the next Army Chief on 1 August.
If unit kills innocents,does dacoity and then head of organization tries to protect them, should he not be blamed?Criminals should go free!!

— Vijay Kumar Singh (@Gen_VKSingh) June 10, 2014
On Monday, the BJP government had filed an affidavit in response to Dastane's petition, in which it termed Singh's actions as Army Chief in stalling Suhag's promotion as "illegal", "extraneous" and "premeditated".
Consequently, on Wednesday, Congress vehemently demanded Singh's resignation, citing the BJP government's written statement against him. "It's a direct vote of no-confidence by the government describing the action of its own minister as 'illegal, extraneous and premeditated'," Congress spokesperson Abhishek Singhvi was quoted by Hindustan Times.
Other members also sought action against Singh. "VK Singh has vested interests in blocking appointment of Gen Dalbir Singh. We request the PM and Arun Jaitley to act on moral grounds," Janata Dal leader KC Tyagi was quoted by Hindustan Times.
In a further blow to the former army chief, defence minister Arun Jaitley defended General Dalbir Singh Suhag's appointment as Army Chief.
The BJP had earlier criticized the UPA government for having hastily named Suhag as the next Army Chief, which NDTV reported was one of the last decisions taken by former Prime Minister Manmohan Singh, and it later changed its stance and assured not to oppose Suhag's appointment.
While Singh's Twitter outburst is said to have caused embarrassment to the BJP government, the Centre's support to Suhag's appointment has put the former in a spot.
Singh, however, is not an amateur when it comes to dealing with controversies, having been at the centre of one with the UPA government that had contested his date of birth and sought his retirement.