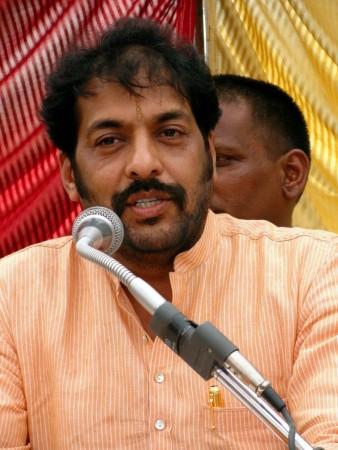 Former Haryana minister Gopal Kanda was arrested in connection with air hostess Geetika Sharma suicide case after he surrendered before police on early Saturday.
After ten days of absconding, Kanda arrived at Bharat Nagar Police Station around 4 am in a Maruti Eeco van.
"He (Kanda) surrendered at Bharat Nagar police station at around 4 am. He has been arrested," a police official said, adding that "He is likely to be produced in the court later in the day."
Before entering the police station, Kanda said that his surrender will help in the investigation process as directed by the Delhi Police.
"I am here to help policemen in investigations. I am surrendering with my own will," Kanda told reporters outside police station.
Kanda is accused of abetting the suicide of former air hostess Geetika Sharma, who hanged herself at her Delhi home on the night of Aug 4-5.
Sharma left a suicide note in which she named Kanda and another official of his now-defunct MDLR Airlines, Aruna Chaddha, in harassing her for re-joining Kanda's MDLR group of companies. Chaddha was arrested on Aug 8 and is in judicial custody which was extended by 14 days on Thursday. Both Kanda and Chaddha had denied the allegations of their involvement.
The former minister was last seen on Aug 8, when he came out of his Gurgaon residence. A day before that police had served him a notice and asked him to join the investigation.
Meanwhile, Sharma's brother Ankit had claimed that Kanda's surrender is well planned.
"This is a planned and well thought out entry. Now my only fear is that the investigations will be impartial of not. 12 days is enough to destroy evidence. Whatever power Kanda could have used to tamper with evidence he has. The investigation should be transparent," Ankit Sharma told Press Trust of India.
"I want his interrogation to be done before camera and a retired judge so that he does not change his statement," he said.
During investigation police have also discovered that Sharma's Facebook account has been deactivated nearly two weeks after her death. Sharma's family claimed that they didn't have her account password.
Ankit has accused Kanda of deactivating Sharma's Facebook account. "I have informed the DCP about it. I don't know who or how it was done .Kanda is behind it," he said.
According to police sources, Chaddha had Facebook passwords of several employees of MDLR Airlines, where Sharma worked as an air hostess. Although, Chaddha has denied this allegation, police have asked cyber experts to investigate this.