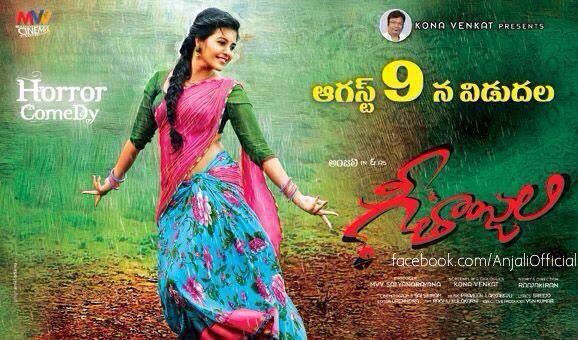 Anjali starrer "Geethanjali", a horror comedy film, has received mixed reviews from critics.
Directed by Raja Kiran, "Geethanjali" has Brahmanandam, Srinivasa Reddy, Rao Ramesh and Shakalaka Shankar in supporting roles. Sapthagiri, Vennela Kishore and Tagubothu Ramesh make cameo appearances in the film.
Plot: Srinivas (Srinivasa Reddy), an aspiring young filmmaker, lands up in Hyderabad to make it big in films. He and his friends rent an apartment, where a woman had once committed suicide. Soon, Srinivas and his friends encounter strange sounds in the house. They realise that there is a ghost in the apartment.
Meanwhile, Srinivas meets Anjali (Anjali) and they become friends. She keeps visiting him every night as she likes his coffee. The rest of the story is about the connection between Anjali and the ghost.
Anjali's performance and entertaining first half are major plus points of the film, according to the critics. However, they said the second half could have been handled well as it looked predictable and there was no suspense element in the horror comedy.
Check the review roundup of "Geethanjali":
"First half of the film is entertaining and the interval point makes us to look forward for the second half with a great interest. The revelation in second half takes the horror factor out of the proceedings. But there is a twist in the tale. The second half should have been handled well. The entertainment in the first half and a few moments in the second half are enjoyable," Jeevi of Idlebrain.
"Geetanjali hardly scares you or makes you jump out of the seat," according to Gulte. "There are neither tension filled scenes nor thrilling moments that are USP of a horror film."
"Director didn't rely on the horror element in spite of having everything set for it. He concentrated upon the comedy instead. There are some good comedy moments in the film that will have you in splits. But they are very few and far apart," the Gulte review said.
"'Geethanjali' is a horror comedy on the lines of 'Prema Katha Chitram'. While the first half of the film is entertainment, second half is predictable at times and the suspense/thrilling factor is missing to make it a blockbuster," said APToday.
"Geetanjali has its good moments. It starts on a hilarious scale, but gets mellowed down during the second half which also becomes quite predictable. The presence of A list comedians, and some funny comedy in the first half makes Geetanjali definitely a one time watch," according to 123telugu.
Verdict: Average Fare