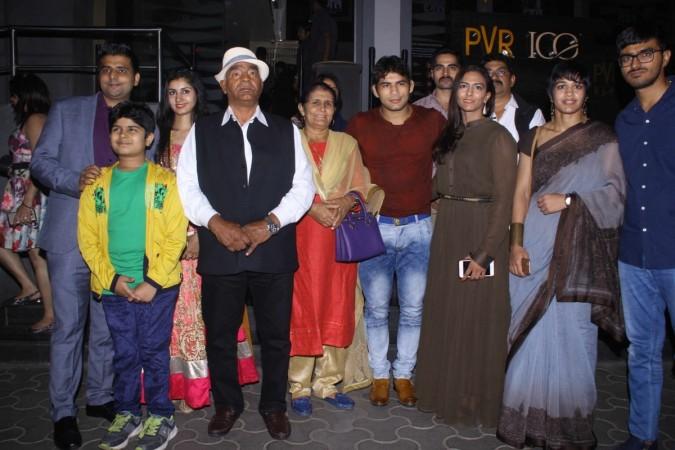 The Phogat family attended the special screening of Dangal and they are delighted with the outcome of the Aamir Khan-starrer. Dangal released on Friday at singleplexes and multiplexes across India.
Geeta Phogat, one of the integral real-life characters of the movie, played by Fatima Sana Shaikh, shared her thoughts after attending the screening in Mumbai, along with Indian cricket legend Sachin Tendulkar, her sister Babita Kumari, actor Aamir Khan and Maharashtra Navnirman Sena (MNS) leader Raj Thackeray.
The 28-year-old Geeta, one of the daughters of Mahavir Singh Phogat, mentioned that every kind of praise falls short for the work done by the Dangal team. In an exclusive interaction on Facebook, Geeta and her husband Pawan Kumar, shared the following messages:
Pawan: "We came to know from the film about the hardwork the whole family has done -- from Geeta to her father Mahavir Phogat. Everyone who watches this will definitely get emotional."
Geeta: "My dad never congratulated me as such before, but after seeing the movie, he congratulated me for the first time ever! Aamir Khan sir has worked so hard as well as the characters who have played Babita and myself.
"Sachin Tendulkar sir, Raj Thackeray, everyone praised our hard work after watching the movie and said a lot of girls will get inspired from us."
Pawan: "There should be an inspiring message for girls from the movie. Even now, girls are barred from participating in combat sports like wrestling and boxing. Girls are no less strong than boys."
Geeta: "Absolutely, I agree to it. When I was a child, people used to say who would marry me, but still now I have broken ear (as a part of a wrestling injury) and I have also been fortunate to marry a good-looking husband (laughs).
"Let us give importance to girl childs as well. They are not any lesser than boys in anything."
Check out these photos from Geeta