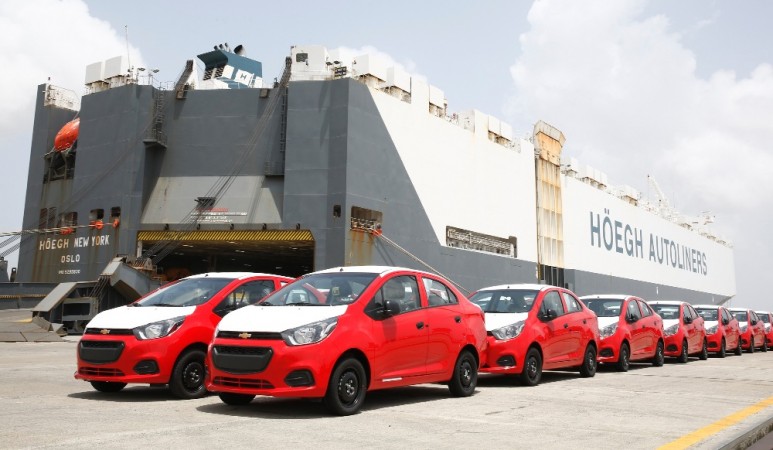 The share of exports in India's gross domestic product (GDP) declined to a 14-year low during the first quarter (Q1) of financial year 2018, according to a Business Standard (BS) report on Tuesday.
Exports were up only 1.2 per cent at constant prices during the first quarter of 2017-18, against 5.7 per cent year-on-year GDP growth during the period.
In value terms, India's exports have been stagnant at around Rs 24 lakh crore (at 2011-12 prices) in the past three years, against 24 per cent cumulative growth in GDP during the period, the report noted.
Experts quoted in the report cited sluggishness in as a prime reason for the growth slowdown in the past three years.
Growth in exports of goods and services has remained below overall economic growth since 2014-15, the report said.
Export of goods and services accounted for 19.4 per cent of India's GDP at constant prices during the April-June 2017 period, down from 20 per cent during 2016-17 and 20.2 per cent during the corresponding quarter a year ago, the report said.
At its peak, exports accounted for a little over a quarter of India's GDP during the financial year 2013-14. On the eve of economic reforms in 1991, exports accounted for just seven per cent of the country's GDP.
"Acceleration in export growth was a key component of India's faster GDP growth during the post-1991 period. Exports have now crashed, pulling down India's overall GDP growth. Merchandise exports that used to be around $27 billion per month three years ago are now down to around $23 billion a month, creating an equivalent hole in the economy," G Chokkalingam, founder and managing director, Equinomics Research & Advisory, told Business Standard.
The report pointed out that India's exports have been struggling despite a strong rebound in global trade. The World Trade Organisation (WTO) has raised its forecast for 2017 trade expansion, following global trade growth improving significantly in the first half of the year. Global merchandise trade volumes are currently estimated to grow at 3.6 per cent, against the previous estimate of 2.4 per cent. In comparison, the volume of global merchandise trade was up only 1.3 per cent in 2016.
The stronger growth in the current calendar year has been on the back of resurgence of Asian trade flows and recovery in North America's import demand.
Goods exports from Asian countries are expected to grow by 6.4 per cent in the current calendar year, a sharp rebound from 1.8 per cent YoY growth last year. Similarly, global services exports were up 2.6 per cent during the first quarter of 2017 calendar year, against 0.4 per cent growth last year, according to the data from the WTO.