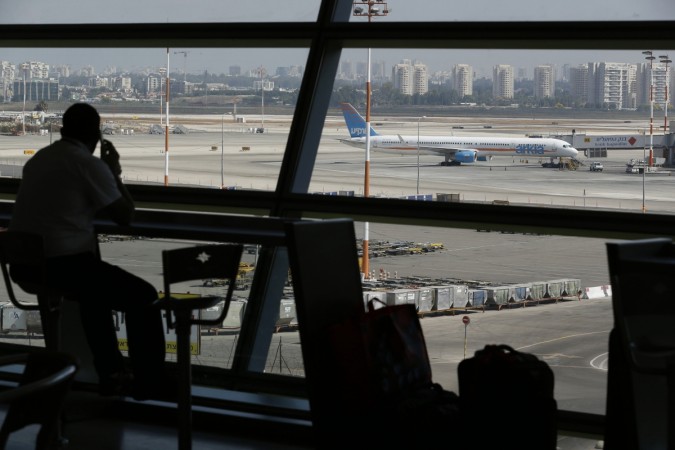 The armed wing of Hamas warned foreign airlines from flying into Tel Aviv, threatening to launch an attack on its airport as fight and bloodshed resumes in the area after a relatively calm period.
As the talks in Cairo unravelled and hope of any meaningful agreement collapsed, the six-week war between Gaza and Israel spiralled into a never-before-seen mayhem on Wednesday.
"We are warning international airlines and press them to stop flying into Ben Gurion airport from 6am (11am Singapore time) Thursday," said Ezzedine al-Qassam Brigades spokesman Abu Obeida in a televised speech.
Dressed in a military attire with his face wrapped in a red and white headscarf, he declared truce talks in Cairo over and that they were abandoning any further efforts to negotiate a durable ceasefire with Israel at the talks brokered by Egypt.
"We are calling on the Palestinian delegation to withdraw immediately from Cairo and not to return," Obeida added in the speech broadcast on Hamas' Al-Aqsa TV channel.
The warning came as Israeli warplanes carried out dozens of air strikes across Gaza again on Wednesday in response to what they claimed to be multiple rocket attacks on southern Israel, as nine days of calm suddenly exploded into deadly carnage.
The UN Security council later urged Israel and the Palestinians to return to the negotiating table to quickly agree upon a lasting truce. But the statement, unanimously adopted by the 15-member council remains largely unheeded amid a fresh flare-up of violence in the war, which has claimed lives of more than 2,000 Palestinian since 8 July.
According to Jerusalem Post, as rockets continue to strike the south of Israel, it was business as usual at Ben Gurion Airport even as Hamas threats loomed large with the militants saying the airport was supposed to be the "target of attack" on Thursday as a response to "the Israeli aggression".
"All activities will continue normally, until further notice," Israeli Airports Authority was quoted as saying.
The Israeli Defense Force struck 20 terror targets in the Gaza Strip overnight, Israeli media reported citing an army spokeswoman. 120 sites were struck in the past 24 hours alone.