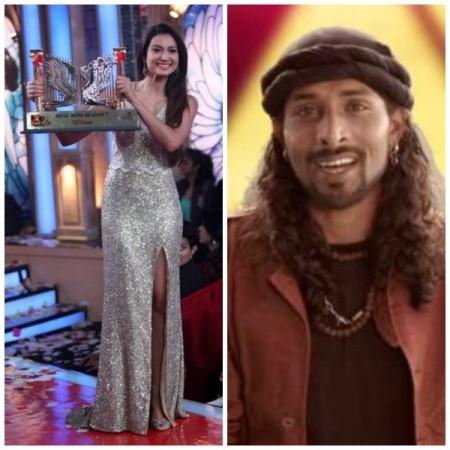 The occasion that would have got a huge limelight from media for Rituraj Mohanty for winning India's Raw Star has been taken away by the unfortunate slap and molestation incident of Gauahar Khan.
Rituraj Mohanty from Orissa won the first season of 'India's Raw Star' on Sunday, 30 November. With his brilliant singing skills, he won the game by beating Darshal Raval and Mohit Gaur. Unfortunately, it is not him but Gauahar Khan, who has garnered all the attention.
Gauahar Khan was shockingly slapped and molested by member from the audience. He found offence with her for wearing revealing outfits and this irked him to misbehave with her at 'India'Raw Star' grand finale.
However, this incident grabbed the headlines and it became the talking point on social networking sites. Even the celebrities expressed their shock and this turned a big issue. Eventually Rituraj Mohanty's victory became the secondary issue in most articles and for public. Many believe that he would have got a better coverage from media if the shameful incident did not happen with Gauahar Khan.
While the media was being responsible and giving importance to issue, it appears like the young singer's achievements did not get notice to the expected level. Nonetheless, Rituraj Mohanty, who has come all the way from Bhubaneswar and won a car, a contract with Star Plus and ₹ 50 lakhs, has become an inspiration for budding singers and made his state proud, say his fans following.
Here, we bring you some of the congratulatory messages posted by his supporters on social networking sites.
Durga Prasad Kundu Tweeted
Yes, @rituraj_rawstar is the 1st @IndiasRawstar and many congrats to this fabulos singer. #winnerofrawstar,#IndiasRawStar,#riturajMohanty
Omni Pundit Posted
#Odisha boy #RiturajMohanty wins '#IndiasRawStar'.
Vikas Gupta Wrote
@asliyoyo superb song paji and also congo for the success of #RawStar and 1st India's Raw Star #RiturajMohanty
Samir Tweeted
#RiturajMohanty Rocks :) Proud of Odisha
PuvvalaVirat Posted
#RiturajMohanty wins #IndiasRawStar .. Ur #Galliyan version still roaming in my years.. U deserve it bcz of ur voice