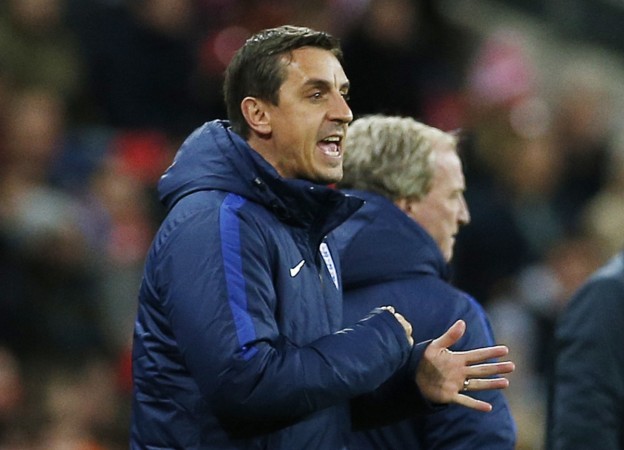 Manchester United legend Gary Neville is rumoured to become the coach of Delhi Dynamos for the upcoming edition of the Indian Super League (ISL), and the news has sent Twitter into a tizzy. It all started when U.K.-based (FA licensed) football agent Baljit Rihal posted an update on the social media platform.
Baljit, believed to have been closely associated with a lot of high-profile transfers in the ISL over the past two years, is the same guy who had mentioned last year that Chelsea veteran Didier Drogba could be moving to Atletico de Kolkata. However, no such thing transpired.
Neville, 41, an eight-time English league winner with the Red Devils and also a former Sky Sports pundit, was appointed head coach of La Liga side Valencia last December. However, after a string of losses, the Englishman was sacked in March this year. The former Manchester United skipper is also the first-team coach of the England senior football team.
While nothing can be believed until official confirmation, the interesting thing is Sky Sports writer Tom McDermott also commented on Neville's rumoured move to the ISL. "I don't know if the Gary Neville move to India is true but it appears from the outside that it's money led. Surprised, [sic]" McDermott tweeted.
"Absolutely no disrespect to the Indian league but surely a move closer to home would be better after a torrid time in Spain...[sic]," he added.
Delhi Dynamos, who have never won the Indian Super League title, have earned the reputation of signing big names of football. While they roped in Italy legend Alessandro Del Piero as a marquee player in the first edition of the ISL in 2014, they signed Brazil legend Roberto Carlos as head coach in ISL 2015.
Although he has not quit officially, it has been widely reported that Carlos would not continue his association with the Delhi-based franchise.