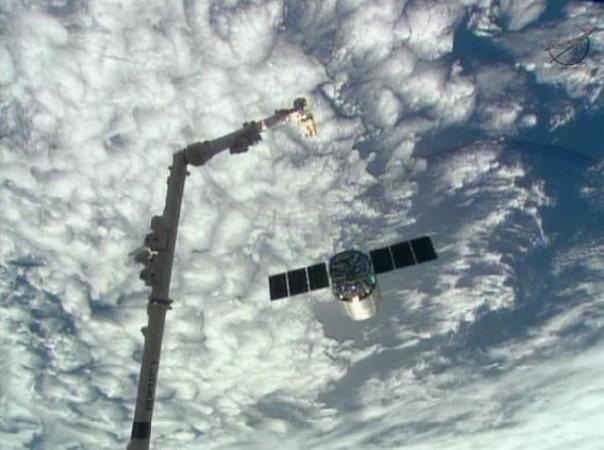 A commercial cargo spacecraft completed its five-week commercial mission to the space station on 18 February 2014. NASA astronaut, Mike Hopkins and Japan Aerospace Exploration Agency astronaut Kochi Wakata used the 57-foot Canadarm2 robotic arm to release the capsule, called Cygnus, carrying loads of trash at 6:41 a.m. EST (5:30 p.m. IST).
Cygnus was launched by Orbital Sciences Corporation in January 2014 from NASA's Wallops Flight Facility, Virginia in a $1.9 billion contract with NASA. Cygnus delivered 2,780 pounds of goods, including some Christmas gifts to the six member crew and hundreds of ants for a student experiment in the International Space Station (ISS) Expedition. Cygnus becomes the first commercial cargo carry such loads.
During the capsule release, ISS was orbiting about 260 miles above the South Atlantic Ocean and two flight crews monitored its departure. The trash loaded Cygnus got detached from the ISS and will fall out of the orbit on Wednesday, 19 February 2014 after 8:00 a.m. EST (6:30 p.m. IST), when it plunges through the planet's atmosphere and burning up over the Pacific Ocean.
However, the ants are still on the space station and will return to the Earth with another cargo ship, Space X.
Space X will be launched by Space Exploration Technologies Corporation on March 16, with fresh loads of supplies.
NASA has been paying Orbital Sciences and SpaceX in order to keep the space station well stocked. Japan, Russia and Europe also take turns in making deliveries.