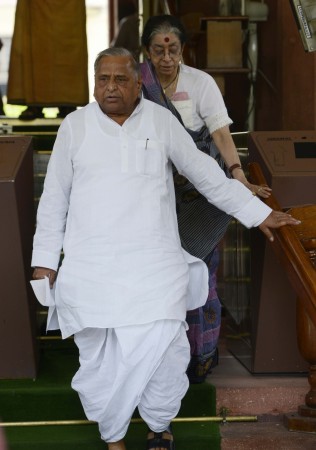 Known for making controversial comments in the defence of rapists, Samajwadi Party chief Mulayam Singh Yadav has done it again. Countering the charges of too many occurrences of the crime in Uttar Pradesh, which is ruled by his party with his son Akhilesh Yadav being the Chief Minister, the veteran politician slammed the "smear campaign" against the state, saying it was not practical for four people to commit a rape.
The former chief minister of the state said that when a person commits rape, four are accused of the crime to "settle scores".
"Often, if one person commits rape, four people are named in the complaint. Four people are named for rape, can it be possible? It is not practical. They probably say one was watching...another was there... If there are four brothers, then all four are named," the SP chief said at a function in Lucknow according to a report by The Times of India.
Referring to the infamous case of "rape-and-murder" of two cousins in Badaun last year, Yadav said that gangrape cases in the state were often blown out of proportion and that Uttar Pradesh is criticised for law and order situation despite states like Delhi, Rajasthan and Madhya Pradesh having higher crime rates.
The SP chief also slammed the party's lawmakers for failing to counter the "smear campaign against the state government".
"Our own MLAs said they were helpless as the media was running a campaign. I will see to it how such MLAs get a ticket this time," The Times of India quoted him as saying.
"You have only three months in hand. If you will talk about it later then people will not listen to you as they will see it as an election campaign," he added.
The veteran leader had sparked an outrage last year while campaigning for Lok Sabha election in Moradabad by saying "ladke, ladke hain... galti ho jati hai (boys will be boys... they commit mistakes)" in the defence of rapists.