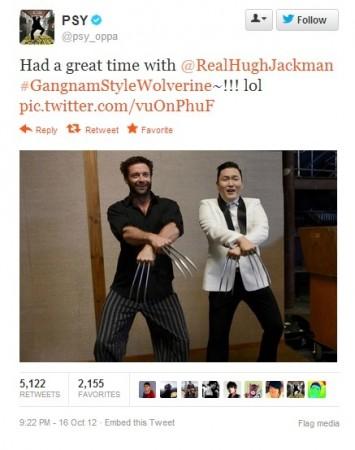 "Gangnam Style," a music video by South Korean rapper Psy, surpassed Justin Bieber's "Baby" on Saturday, becoming the most watched item on YouTube.
The four-minute, 13-second video was viewed more than 805 million times since it was uploaded mid-July on YouTube, overtaking Bieber's "Baby" which recieved more than 803 million views until now. The video has earned approximately 812,794,421 million views in four months.
The 34-year-old pop sensation, whose birth name is Park Jae-sang, is well known for humorous videos and stage performances. With his hit single "Gangnam Style", Psy has become an international star.
The video which has become a global sensation has also set YouTube record's for the most liked video on the site with more than 5,403,000 likes and 329,000 dislikes.
"Global sensation PSY and his wildly popular "Gangnam Style" music video surpassed Justin Bieber's "Baby" as the most viewed music video (and overall video) of all time," Kevin Allocca, YouTube trends manager wrote in a blog post on Saturday.
"Bieber's video picked up the designation in July of 2010, when the then-rising star himself passed Lady Gaga's "Bad Romance". Though it was posted in February of 2010, "Baby" remains popular, continuing to garner between 350k and 500k views per day," he wrote adding, "It's been a massive hit at a global level unlike anything we've ever seen before. Each day, "Gangnam Style" is still being watched between 7 and 10 million times."
While Bieber's "Baby" took two years to become the most watched video, Psy's "Gangnam Style" grabbed the top position in just four months.
The phrase "Gangnam Style" refers to a lifestyle linked with the Gangnam District of Seoul, South Korea.