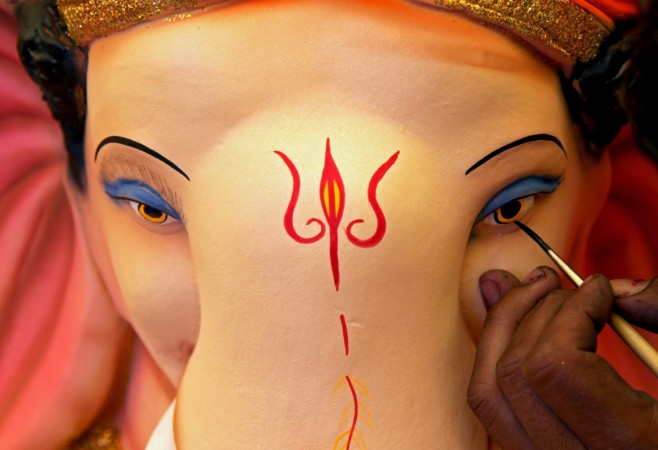 Lord Ganesh's birthday is celebrated on chaturthi (chathurthi) in the Hindu month of Bhaadrapada (mid August- mid September). This year it falls on Sept. 5. He is one of the most popular deities among the Hindus and worshipped before all other deities in Hinduism. Hence, his special day is celebrated across the nation.
Mythology
He is the son of Lord Shiva and Gowri and brother of Karthikeya, who is known with many names like Subramanya, Murugan, etc. Ganesh has a head of an elephant with a body of a man. As per the popular legend, Gowri created Ganapathi from the dust and oil from her body and gave life to it.
Gowri asked the boy to guard the entrance while she was taking bath. Soon, Lord Shiva came home but was blocked by Ganesh. This angered Rudra, who was unaware of the fact that he was his son, and fought with boy.
In the battle, Ganesh was killed and Shiva cut off the boy's head. Gowri was in a shock when she returned and decided to destroy the universe in anger. To calm her down, Rudra agreed to bring their son back to life. He ordered his army to cut the head of the first living being they come across that had the head facing the north.
It was an elephant that they found and brought it before Shiva, who fixed it, thus giving life to his son.
As per another legend, Shiva and Parvathi created Lord Ganesh on the request of Devas for a 'vignakartaa' (obstacle-creator) in the path of rakshasas (demons) and a 'vignahartaa' (obstacle-averter) to help the Devas.
Hence, he is considered as a remover of obstacles from our lives. He is also known for bestowing material prosperity and wisdom to his devotees.
Ganesh Chathurthi Songs
To make it a special day for our readers, we are listing out his popular Sanskrit songs, slokas and mantras below:
'Vakratunda Mahakaya' sung by Anuradha Paudwal
It is a prayer to Lord Ganesh to remove all obstacles from one's path.
Shankar Mahadevan's version of the song
Vathapi Ganapathim sung by Rajalakshmee Sanjay
It is a Sanskrit kriti song by the South Indian poet-composer Muthuswami Dikshitar.
Ganesha Pancharatnam sung by Sooryagayathri & Kuldeep M Pai
It was composed by Sri Adi Shankaracharya in the 8th Century.
Om Gan Ganpataye Namo Namah sung by Kartiki Gaikwad
The mul mantra of Lord Ganesh.
Sri Ganesh Stothram sung by G Gayathri Devi, Saindhavi, Sruthi
It is a poem praising the lord.
Gajananam Bhutaganadi Sevitam sung by S Rajeswari
A song praising lord Vinayaka.
Sri Ganesha Sahasranamama
The 1000 names of the lord.