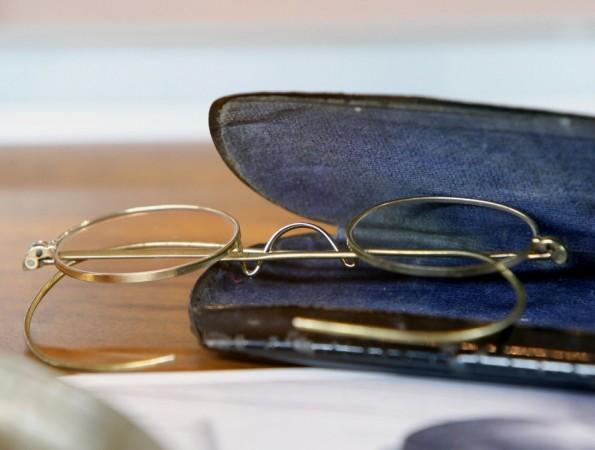 Blood-stained grass and samples of soils that were picked up from the spot where Mahatma Gandhi was assassinated and other rare memorabilia belonging to the Father of the Nation will be auctioned in the UK on Tuesday.
Other memorabilia to put for auction include his round steel-rimmed glasses, a few signed letters and a prayer book.
The artefacts are genuine and come from P.P. Nambiar, a retired Army Officer from Kerala, who was present at the time of Gandhiji's assassination on Jan. 30, 1948, say reports. He collected the soil and grass from the spot where Gandhi fell after being hit by the assasin's bullets.
"I cut the grass and also took two pinches of soil from the brink of the pothole which I wrapped in a piece of Hindi newspaper found nearby," Reuters quoted Nambiar as he wrote about the event and how he collected the soil and blood-stained grass.
The auction, organized by British Auction house Mullock's, is part of its document, autographs and ephemera auction.
Mullock's also revealed that artefacts came with a letter of provenance from Nambiar and the items are expected to fetch between £10,000 to £15,000 (INR 820,732-1,231,098).
Meanwhile, opposing the auctioning of Gandhi's rare memorabilia, Gandhian and anti-corruption crusader Anna Hazare has urged the President and Prime Minister to stop the auction.
"Gandhiji's belongings are going to be auctioned. This is not right. I request the President and the Prime Minister to stop the auction, and bring back the belongings to the country," Hazare told a journalist in his hometown Ralegan Siddhi on Monday.
He also added that this auction of Gandhiji's artefacts is regrettable, no Indian would like it.
The opposition from the 74-year-old activist came after writer and Padma Shri awardee Giriraj Kishore wrote to Prime Minister Manmohan Singh and President Pratibha Patil and then spoke to Hazare over the phone to stop Gandhiji's belongings from being auctioned in the UK.
It is also reported that Kishore had threatened to return his Padma Shri to the President and the Prime Minister if they failed to stop the auction immediately.