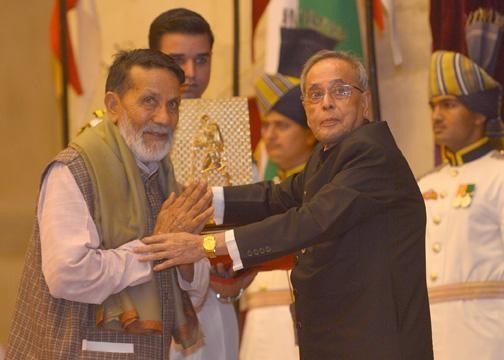 President Pranab Mukherjee awarded environmentalist Chandi Prasad Bhatt with the Gandhi Peace Prize on Tuesday at Rashtrapati Bhavan.
Presenting the award to Bhatt, Mukherjee acknowledged him for his tireless dedication and love towards the conservation of the environment.
"Bhatt is a life-long Gandhian, devoted and far-sighted modern environmentalist of our time whose life has been his message," Mukherjee said.
Talking about his initiative to start the Chipko Movement, he said that Bhatt was devoted to nature, for the love of which he protected its creation and preached the nation the strength of Ahimsa—non-violence.
"The Chipko movement started by him in 1973 followed the same method of peaceful and non-violent Satyagraha for the redressel of the legitimate rights of the hill people to collect wood and fodder and saving them from natural calamities owing to large scale deforestation."
"He has not only deepened our understanding of responsibility, but also provided an object lesson to the world on the power of Ahimsa," he said.
The International Gandhi Peace Prize was launched in 1995 on the 125th birth anniversary of Mohandas Karamchand Gandhi, to commemorate his non-violent principles.
Government of India annually gives ₹1 crore, a plaque and citation as an award to individuals or institutions for adopting Gandhian principles to bring social, political and economical changes.
In 1964, environmentalist and the follower of Gandhian Principles, Prasad Bhatt founded an institution - Dasholi Gram Swarajya Mandal, which is Dasholi Society for Village Self-Rule.
This organisation aimed to create employment for the people of the Gopeshwar village by establishing small-scale industries based on forest-related products such as woods and herbs.
The Chipko Movement - a non-violent means to protest against felling of the tress by hugging it - made him one of the pioneers of this environmental movement. For this movement, he was awarded Ramon Magsaysay Award for community leadership in 1982.
While honoring Bhatt for his contribution to the Chipko Movement, Mukherjee remembered those, who participated in it.
"We honour all those countless women and men who became Trustees of the Nature and who through their embrace expanded our Swaraj," he said.
Bhatt was also honoured with one of the world's prestigious awards, Padma Bhushan in 2005.
The President honoured him with the Gandhi Peace prize in the presence of former Prime Minister Manmohan Singh and Minister of State for Culture and Tourism Shripad Yesso Naik, according to Zee News.