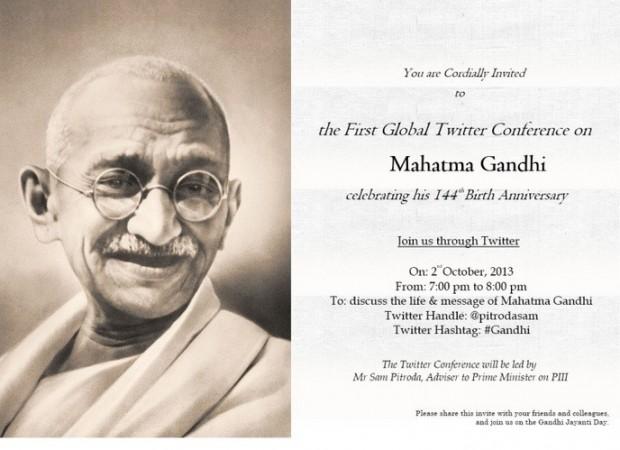 Planning Commission has organized a global Twitter conference to discuss the life and message of Mahatma Gandhi to mark the 144th Birth Anniversary Celebrations of the Father of the Nation.
The nation celebrates Gandhi Jayanti on 2 October to mark the birthday of Mahatma Gandhi. The United Nations General Assembly also has also declared the day as the International Day of Non-Violence in 2007.
The first Twitter Conference on Mahatma Gandhi, which is open to everyone, will be held between 7.00 p.m. and 8.00 p.m. IST on the occasion of Gandhi Jayanti on Wednesday (2 October) and the hash tag for the conference is #Gandhi.
Sam Pitroda, Chairman National Innovation Council and the Adviser to the Prime Minister on Public Information Infrastructure to Improve Governance & Public Services will lead the conference from his Twitter handle @pitrodasam (www.twitter.com/pitrodasam), said an official release.
Shri Kartikeya Sarabhai, Trustee of Sabarmati Ashram, other Gandhians and people from the world over are expected to participate in the conference, as an invitation has been sent to the public to take part in the discussion.
Prime Minister Manmohan Singh had recently launched a Gandhi Heritage Portal which is now available at www.gandhiheritageportal.org. The portal developed by the Sabarmati Ashram under the aegis of the Ministry of Culture, Government of India hosts Gandhiji's Autobiography in 22 languages. It also has placed the 'Collected Works of Mahatma Gandhi' in three languages: English 100 volumes, Hindi 97 volumes and Gujarati 82 volumes. In all, the Portal presents more than 5 lakh pages, 21 films, 72 audio speeches of Gandhiji and over a 1000 photographs.