Sophie Turner, who plays the iconic character Sansa Stark in HBO's Game of Thrones, is rumored to be pregnant with her fiancé Joe Jonas' baby.
According to Page Six, a source claimed that the British actress was recently spotted with her fiancé at the Crow's Nest in Montauk. The alleged source added, "She looked pregnant. She had that glow." As per the claim, the actress was also not consuming any alcohol.
In addition to this, when Sophie attended the US Open to see Venus and Serena Williams play with her fiancé, Priyanka Chopra, and Nick Jonas, she "playfully stuffed a seat cushion under her jacket to mimic a baby bump," added the report.
As of now, the rumors and the pregnancy claim are not confirmed by Sophie Turner's spokesperson. Well-wishers of the star are advised to take these as nothing but rumors about her personal life.
Sophie Turner and Joe Jonas got engaged in October 2017 when the singer asked the TV actress the big question with a pear-shaped diamond ring.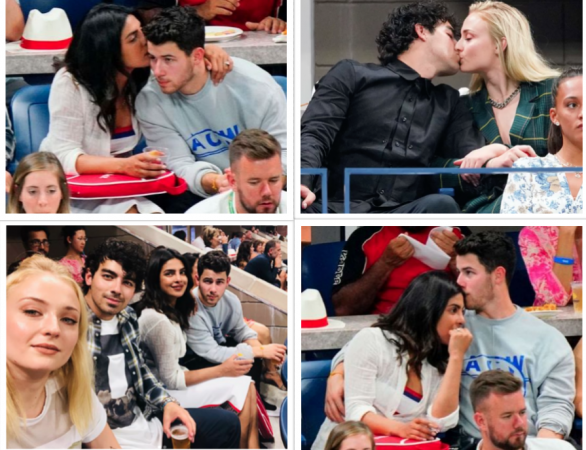 "It's lovely to be engaged. Not like I achieved anything, but I found my person like I'd find a house that I love and want to stay in forever. There's a sense of peace that comes with finding your person," Sophie told during her interview.
Apparently, this is not the first time when the rumors of Sophie Turner's personal life has surfaced. Back in 2016, several fans of Game of Thrones speculated that her character from the award-winning show is pregnant.
"When the rumors first started coming was when set photos were released for Season 6 and everyone was like, 'Oh, my God, I think she's pregnant,' because there was a kind of a little bump, but it was just that time of the month for a girl," she clarified. "And that was the worst thing you can ever see on the Internet, is people being like, 'She's totally pregnant!' and you're like, 'No, I was just fat that day. I was bloated. Thanks, guys.'"
Apart from Game of Thrones' season 8, Sophie Turner will star is X-Men's Dark Phoenix and Time Freak. In Dark Phoenix, she will be seen as Jean Grey/Phoenix and will share the screen with James McAvoy and Michael Fassbender.