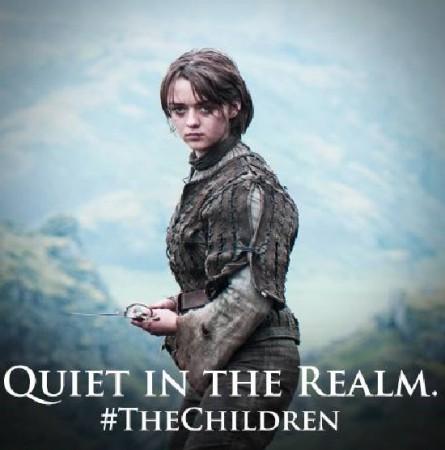 "Game of Thrones" star Maisie Williams, who plays lively swordstress in the series, suggested in a recent interview that book readers are snobby for creating a furor in regards to Lady Stoneheart omission from season 4.
"That was a massive deal, but honestly, I really like it. I'm so sick of going on the internet and seeing all the book readers being snobby, spoiling it for other people, then saying, 'Well, it's not a spoiler. The books have been out for years.' Like, couldn't you just stop being mad for a second and let other people enjoy the show?" Williams told in her interview to TV Line.
Williams also suggested that faithful readers of "GOT" books think that they have an ownership over the series. However, she likes the way the creators vary the content from the book and shock the viewers.
"They're always like, "That's not what happened in the books, so the show's really bad now." But really, they just feel insecure because they're used to knowing what's coming next," she said about the reaction of book geeks.
Meanwhile, Williams also talked about her role in the new movie, "Heatstroke" which is now available in US. The film was previously released in 2013 in the UK. In the film, Williams plays the character called Josie, which is totally opposite of her character, Arya Stark in "GOT". Josie is the daughter of Stephen Dorff's Paul and is not a fighter. She wants to be saved when a trip to Africa goes wrong.
"I shot this two or three years ago, and when we got the script, I wasn't in any position to be picking and choosing roles to play. [Josie and Arya] are both completely different characters, and I enjoy doing both. I enjoy Game of Thrones for obvious reasons, but it was also refreshing to work with a different crew on a different set with different cast members," she said about being able to play both the characters which are different from each other.
Willaims also suggested that she is looking forward to do something new in the upcoming season of "GOT", something that will once again shock the book readers. In "GOT" season 5 Williams' character Stark will finally be on her own and may not be told what she needs to do with her life, as per the reports.