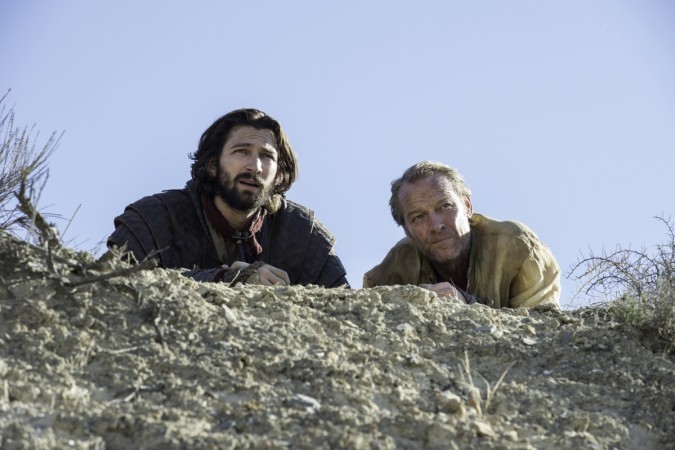 Game of Thrones season 8 is all set to air in April 2019 but everyone has started to search online for Game of Thrones season 8 leak episodes. Considering that the upcoming season is going to be the most anticipated one, show's producers are trying their best to prevent the details to leak online. At the same time, the extra securities might have caused problems to several actors.
Earlier this week, Game of Thrones star Iain Glen, who is playing Ser Jorah Mormont in Game of Thrones since 2011, talked about the measures that were taken to prevent the story from leaking.
"They're absolutely paranoid now about anyone finding out anything about the series and spoiling it," he said. "We weren't allowed a written word on a page. Everything was accessed through iPads with different security you had to get through to access it. Which caused a problem for the actors, I have to say. "
Ian Glen further talked about Game of Thrones' final season and how it is going to be full of shocks for everyone, reports BBC.
He said: "This season was the first ever that we sat and read the entire arc of the story from beginning to end right through over the course of a day. Kit, if he wasn't lying, had not read it, so he was reading it on that day for the first time."
Game of Thrones' episodes has a history of getting leaked prior to their official release. Back in 2015, first four episodes of Game of Thrones season 5 made their way to the cyber world, ahead of their broadcast. It was later confirmed by HBO through a statement that the episodes of Game of Thrones were leaked by a group approved by HBO to receive them.
In the Google trend section, topics like "Game of Thrones season 8 plot leak" and "Game of Thrones season 8 plot leak reddit" are at +300 and +150 percent respectively, which is actually a concerning factor for everyone involved with the show.
This is not the first time when the reports have surfaced about providing extra securities for Game of Thrones season 8. It was earlier reported by one of the directors of the show that they filmed several fake versions in order to save the story from getting leaked.
Game of Thrones season 8 will premiere on HBO in April 2019.