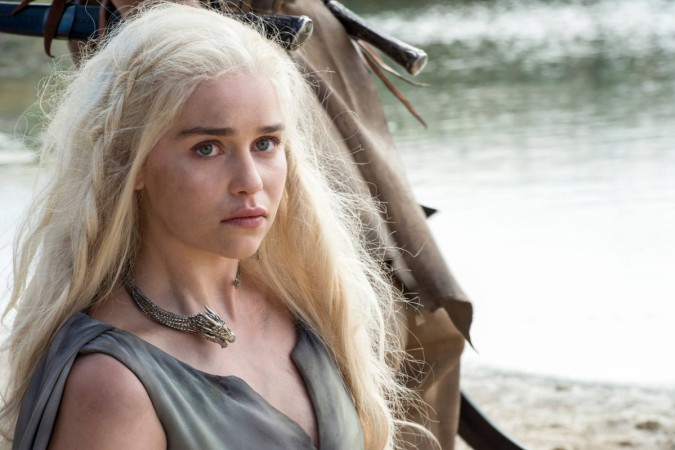 The second trailer of "Game of Thrones" Season 6 has put a lot of theories into perspective for avid fans. A scene in the trailer show Daenerys Targaryen (Emilia Clark) chained and humiliated by the Dothraki, as she is taken to Vas Dothrak. This sets the stage for the meeting between Daenerys' and the "strong man" described in the official synopsis of Season 6 epiosde 1.
However, will Daenerys be stuck among the Dothrakis throughout Season 6? Will she return to Mereen at some point? We break this down ahead of the premiere.
For the most part in Season 6, Daenerys will be powerless, isolated and at the mercy of the Dothrakis. She will be forced to marry Khal Jhaqo (Joe Naufahu), who as Jorah Mormont (Iain Glen) revealed in Season 3, hates the sight of a woman leading a khalasar. However, will she see this marriage as an opportunity to win over the Dothrakis, inspire them to join her and later, return to Mereen?
Maybe not. We predict that the mother of dragons' compassion and kindness will largely be ineffective among the fierce and ruthless warriors. There is another way through which she will probably return to Mereen.
Trailer 2 for "Game of Thrones" Season 6 depicts Jorah and Daario Naharis' (Michiel Huisman) quest to find Daenerys. Jorah even says, "I know what happened." This knowledge could impel him to gather the Unsullied and journey to Vaes Dothrak.
A scene in trailer 1 (1:20) captures the warriors on their horses with their spears held outward. It seems as if they are part of a battle taking place in their land. If the plot does lend itself to a fierce war, will all the three dragons be part of it?
Tyrion, in trailer 2, certainly foreshadows this. He tells Missandei (Nathalie Emmanuel) and Varys (Conleth Hill), "Dragons don't do well in captivity." In addition to this, he also visits the other two dragons in the dungeons.
Tyrion will probably set the dragons lose. If the mythical creatures do fly to Vaes Dothrak and join their brother Drogon, perhaps this will be the moment when Daenerys realises her power over her children, as she calls them.
"Game of Thrones" Season 6 premieres on Sunday, April 24, at 9 p.m. EST on HBO. You can stream the past seasons' episodes via HBO Now. In India, the show premieres on Tuesday, April 26, at 10 p.m. on Star World Premiere HD.