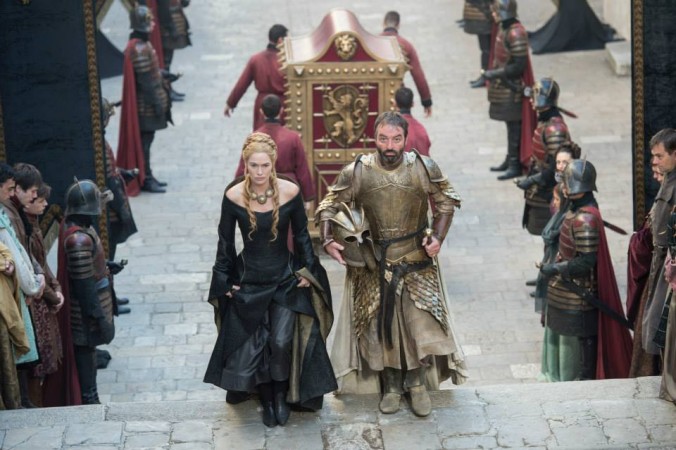 There are few more months left for "Game of Thrones" Season 6 to premiere, but HBO's newly released teaser trailers indicate what's in store for the machiavellian characters on the fantasy drama series. These teasers have given fans reasons to speculate about what to expect from the upcoming episodes.
Since the video clips appeared on the "Game of Thrones" Twitter page, speculations have been rife about Jon Snow's (Kit Harrington) return, Daenerys Targaryen's (Emilia Clarke) fall from power and the High Sparrow's (Jonathan Pryce) war with House Lannister in King's Landing. These separate battles in different parts of the seven kingdoms indicate the war with the White Walkers is still far away.
However, the threat posed by the High Sparrow is more immediate for the royals in King's Landing. The video indicates his fight is far from over. In the teaser, the leader of the religious group Faith Militant says: "Every one of us is poor and powerless, and yet together. We can overthrow an empire." This has led to predictions about a battle between the Lannisters and the religious group for their treatment of Cersei (Lena Headey).
However, a recent picture hints that the Lannisters won't be the only ones warring against the Faith Militant. They will find allies in the Tyrells. We predict the House from Highgarden will join the battle to avenge the humiliating treatment of Loras (Finn Jones) and Margaery (Natalie Dormer). The siblings will most likely do the walk of shame. This theory finds basis in Jones' altered appearence in a new video clip. To be sure. the actor has cropped hair in a recent promo. Fans of the show will remember that Cersei had to shave her head when she had to walk naked in King's Landing.
Furthermore, Dormer dropped a major hint about her walk of shame during New York Comic Con. "Oh, we're in dangerous territory for next season if I talk to you about that," she was quoted as saying by Tech Insider.
If there's a war between the religious group and the Lannisters and the Tyrells, we doubt the Faith Militant can overwhelm the two biggest armies in Westeros.
"Game of Thrones" Season 6 starts airing on Sunday, 24 April, 2016, on HBO.