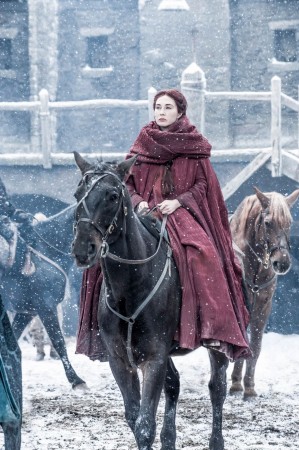 Season 6 of "Game of Thrones" will be back on HBO this Sunday, April 24 and the first episode of the season will reveal what fate has in store for a number of characters, including Jon Snow, who was seemingly stabbed to death by his Night's Watch comrades.
Check out where you can watch "Game of Thrones" in India at the same time as the U.S.
The trailer for the upcoming season shows Ser Davos guarding Jon Snow's corpse and fans are holding out hope that the Lord Commander will once again be resurrected. However, Melisandre might not be the one to do it, spoilers indicate, as she will be seen struggling to hold on to her faith.
"The arc of my character is finally going into a different direction," actress Carice van Houten, who plays Melisandre, told Entertainment Weekly. "It's changing and I really like it. We see her from a really different side of her now. We see somebody whose whole belief system is tumbling down. She's completely confused, and I really like to play that. After all the security and strength and pride, now we see something completely different. I've been really waiting for this moment."
On Friday, it was reported that pictures from the first episode has been leaked and photos show Melisandre as an old wrinkled lady. Click here to check out the pictures.
As for the other characters on the show, we'll see Theon and Sansa successfully escaping Winterfell. But her husband, Ramsay Bolton, might not be too pleased and it looks like he'll try to hunt her down. Spoilers also indicate that Sansa and Theon will part ways after their escape.
The first episode is titled "The Red Woman" and the official synopsis reads: "At Castle Black, Thorne defends his treason while Edd and Davos defend themselves. Sansa and theon race the cold and the hounds."
"Game of Throne" airs Sundays on HBO. The episode can be watched live through HBO Now.