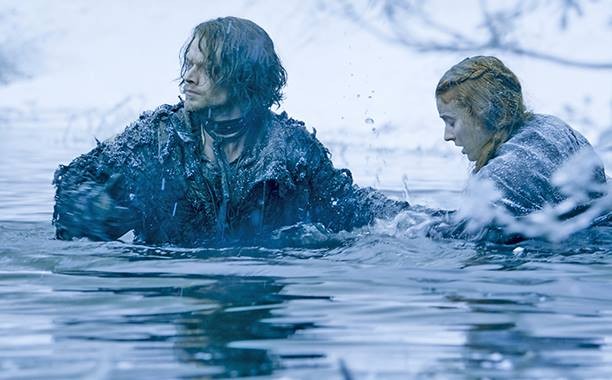 There might be tension in the north and south of Westeros, but the plot seems to have focused heavily on Sansa Stark (Sophie Turner) and Jon Snow's (Kit Harrington) storyline. After a tearful and might we say joyful reunion between the Stark siblings, we wonder which Houses in the north will support their war as Season 6 of "Game of Thrones" progresses.
Season 6 episode 4 has already indicated that House Arryn will be the first to support them. The Lord of the Vale, who is cousin to Sansa, will help the family. However, Jon Snow's sibling might find more allies.
The trailer for the "Game of Thrones" Season 6 seems to indicate that House Mormont will prove to be a loyal ally. After all, Lynna Mormont, the 10 year-old-girl from Bear Island reminded Stannis Baratheon (Stephen Dillane) that Starks are the true rulers of the north.
In Season 5, her letter to Stannis read: "Bear Island knows no king but the King in the north, whose name is Stark."
Furthermore, Ser Davos Seaworth is even seen standing under their roof in the Season 6 trailer. Apart from House Mormont, Sansa might find support from her mother's House, Tully. The trailer includes a scene, in which Brienne is seen standing against House Tully's sigil, a leaping trout.
Fans of the show will remember that Catlyn's uncle, Blackfish, is still alive and will most probably go to war so that Winterfell is back in Sansa's control.
Although Sansa and Jon Snow plotted their escape from Castle Black, the promo for episode 5 hints that some unfinished business will keep them amidst the Night's Watch for a while at least; perhaps even until the war against the Boltons is won.
In episode 5, Sansa's unfinished business will mostly concern Petyr Baelish (Aidan Gillen), who will finally meet her in "The Door."
Littlefinger will have to answer why he committed Sansa to a marriage with Ramsay Bolton (Iwan Rheon), and she might even ask Brienne (Gwendoline Christie) or her brother to take action against him.
There seems to be a lot of animosity against the former Master of Coin. Is this a foreboding of his impending death? Will he be Sansa's first victim? Perhaps this will be revealed when episode 5 airs.
"Game of Thrones" Season 6 episode 5 airs at 9 p.m. EST Sunday, May 22, on HBO. You can watch the past episodes online via HBO GO and HBO Now.