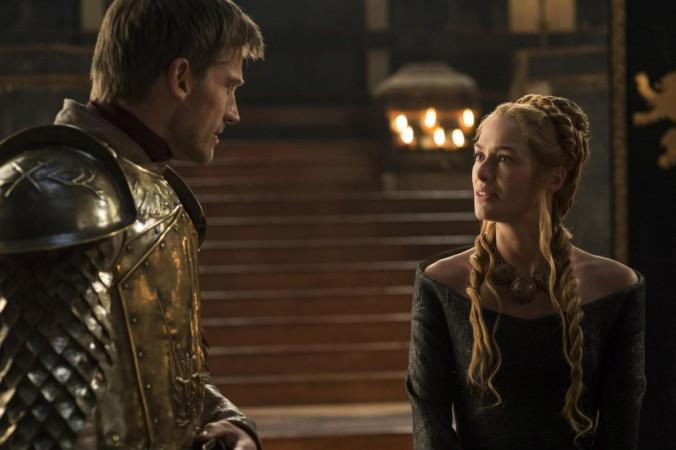 It's clear now that HBO series "Game Of Thrones" is not a direct adaptation of George RR Martin's "A Song of Ice and Fire" novel anymore. The show is creating its own narrative and plot, including killing unexpected characters. In fact, it has been learnt that the characters who don't die in the book will die in the show. So who will die next? Tyrion, Cersie, Jaime or Jon Snow?
For fans who have read the novel, this comes as a shock as earlier, they knew which characters were safe. But now, even the readers are just as in the dark as other viewers about the fate of their favourite characters.
Confirming this, Martin said, "People are going to die who don't die in the books, so even the book readers will be unhappy. So everybody better be on their toes. [The show's co-creators] David [Benioff] and D.B. [Weiss] are even bloodier than I am."
We know for sure that Bran Stark and his companion Hodor will not make a comeback this season, so they are safe for the time-being.
While we think Varys, Arya Stark, Stannis Baratheon, and Daenerys Targaryen will also definitely survive the season, here are a few characters that may see the end in the coming episodes:
1) Tyrion Lannister
Certainly the most popular and beloved character, The Imp, has always been on the hit list. Tyrion Lannister is most likely to die because of his popularity. As rumours suggest that "Game of Thrones" Season 5 will witness an event more shocking than the Red Wedding, Tyrion's death certainly fits the bill.
2) Grey Worm/Barristan Selmy
The death of either Grey Worm or Barristan Selmy would be a huge blow to Daenerys. With "Sons of the Harpy" making their presence felt, will the mother of dragons lose more of her close aides this season? Barristan's role in the show has been smaller than in the books. So, from the show's perspective, his loss wouldn't be huge.
3) Jon Snow
He not only has to keep fire-worshipper Stannis happy, but also cater to a bunch of unhappy wildlings. Some of his brothers from the Night's Watch suspect that he is in favour of the wildlings. Looks like things are getting tougher and for the Lord Commander of the Night's Watch.
4) Jaime Lannister
In the books, Jaime plays a peacemaker. Visiting the last holdouts from the War of the Five Kings, he gives them terms of surrender. But in the show, we know he visits Dorne with the knighted Ser Bronn to save his daughter Myrcella. Jaime's role in Season 5 is unclear and given that he can't even weild a sword properly, he may meet his end soon.
5) Cersei Lannister/Margaery Tyrell
Rivalries in "Game of Thrones" rarely see happy endings, and are usually resolved by brutal deaths. Margaery and Cersei have both ensured they're rather nice to each other, but the hostility between the pair cannot go unnoticed. Cersei's son Tommen is under the spell of Margaery Tyrell, while Cersei's fears for Myrcella are strong. On the other hand, Cersei has been quite a plotter, having killed her husband. So, Margaery should probably watch her step.
6) Melisandre
The priestess of the Lord of Light and close advisor to Stannis Baratheon may find her god here in the north. The Red Woman has realised that Jon Snow, and not Stannis, is the messiah she seeks. Will this lead to her end?
7) Brienne Of Tarth/Podrick
These two characters may see an untimely end this season. It could either be giant of a woman Brienne or Podrick, or both. Doesn't look like Brienne will reconnect with Jaime this season since he is travelling south. Thus, maybe a glorious death for her should do the justice.
8) Bronn
Bronn, as we know, has teamed up with Jaime to get Myrcella back from Dorne. But, Bronn doesn't seem necessary for the plot in long-term. This warrior has also made a point of swearing loyalty to nothing and nobody except cold hard cash, so a tragic death defending Jaime or Myrcella seems probable.
9) Loras Tyrell
The Tyrell boy hasn't had much to do post the death of his lover Renly in Season 2. So, he may not be much of a loss to the plot. And, with Cersei far from keen to keep the marriage pact, it is possible that she will get rid of the boy for good.
10) Myrcella Baratheon
For those who have simply forgotten, Myrcella Baratheon is the daughter of Cersei Lannister who is now in Dorne. She's a character that hasn't been seen since Season 2; so, most people have probably forgotten she exists at all. The makers may just do away with her.