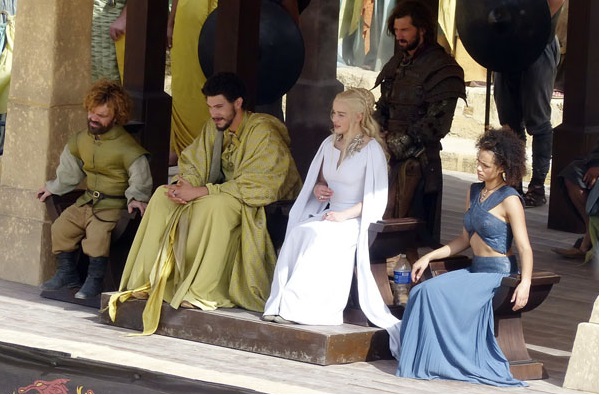 Winter isn't coming until the mid of 2015, but the loyal fans of "Game of Thrones" cannot wait for the first episode of their favourite HBO series. To quench the need for regular doses of spoilers and trivia from the magical land of Westeros, HBO has been feeding them mere morsels of spoilers and photos from the set of "Game of Thrones" Season 5, propelling fan theories and even some constructive criticism.
When the first photos of Sand Snakes, the daughters of Prince Oberyn Martell were released, fans were left more disappointed than excited, primarily because of their nippled breastplates. There were so many backlashes over the suggestive armour that the costume designer Michele Clapton deemed it necessary to explain her stand.
"I was surprised when I saw the picture. But I didn't notice them when I was there. And sometimes you can't go back and change things," Clapton told New York Magazine.
The nippled breastplates on the armour feminised the Red Viper's daughters rather than make the Sand Snaked look like warriors avenging their father's death. "Of course you have to have the woman's shape. That's fine. But [nipples on armour] is almost from a man's point of view, and there's something slightly cheesy about it," Clapton added.
Meanwhile, a video of Nikolaj Coster-Waldau rehearsing for a fight scene captured from the set of Season 5 confirms rumours that Jamie Lannister may be sparring with the Sand Snakes. The video begins with multiple actors and stuntmen rehearsing for a fight scene, before Coster-Waldau clad in a white tee-shirt joins them one minute and 10 second into the video.
The women with the spear could be Keisha Castle-Hughes, who plays Obara, because according to one of her tweets, it is understood that her character takes after the Red Viper, whose choice weapon was also spear.
"On my way to Dorne, @JHenwick have my spear sharpened please," Castle-Hughes had tweeted on 6 October.