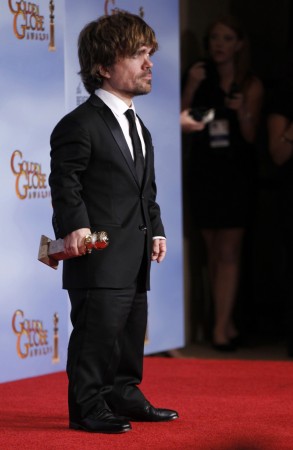 Every season, HBO's "Game of Thrones" breaks fans' hearts by killing off one or multiple fan favourite characters, and the situation is going to be the same in season 5 as well.
With just two more weeks to go before the big season 5 premiere, fans are clearly excited to see what is in store for all the characters. But author George RR Martin's recent statement that the television series will kill off characters who are alive in the books has fans worried.
"People are going to die who don't die in the books, so even the book readers will be unhappy. So everybody better be on their toes. [David Benioff and D.B. Weiss] are even bloodier than I am," said Martin, according to Showbiz411.
While there's no news on who will die, fans can be assured that Peter Dinklage's Tyrion Lannister will survive. During an interview with Popsugar, Dinklage was asked what he would ask "GOT" writer Martin if given a chance.
"Do I die?" Dinklage said. "I just wanna know."
"We are going to start [season] 6 soon," he said later in the interview, revealing to fans that Tyrion survives the year.
"But I guess I just did a spoiler that I don't die this season," he said.
The last we saw of Tyrion, he was fleeing Westeros after killing his father. Lord Varys helped him escape, and from the looks of it the duo will soon be joining the Queen who will one day sit on the Iron Throne -- Daenerys Targaryen.
It remains to be seen if Daenerys and Tyrion will eventually meet, although in the books the two are very much apart, Martin told Entertainment Weekly.
"Well, Tyrion and Dany will intersect, in a way, but for much of the book they're still apart," Martin said about Tyrion and Daenerys' storyline in "Winds of Winter," the sixth novel in the "A Song of Ice and Fire" series, which is the source material for the "Game of Thrones" television series.
"They both have quite large roles to play here. Tyrion has decided that he actually would like to live, for one thing, which he wasn't entirely sure of during the last book, and he's now working toward that end—if he can survive the battle that's breaking out all around him. And Dany has embraced her heritage as a Targaryen and embraced the Targaryen words. So they're both coming home."
"Game of Thrones" season 5 will premiere on 12 April.