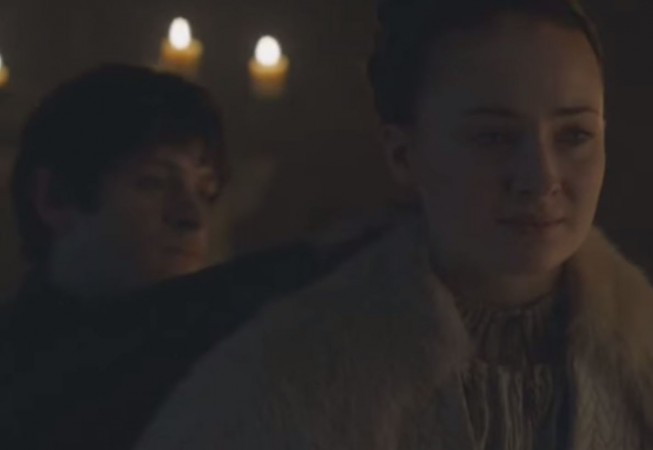 It has been two days since the sixth episode of the ongoing "Game Of Thrones" Season 5 was aired. But critics and fans continue to condemn the Sansa rape scene.
While HBO hasn't commented on it yet, George RR Martin has defended the show.
"Unbowed, Unbent, Unbroken", the sixth episode of Season 5, showed Sansa Stark's marriage to Ramsey Bolton. But the alliance soon becomes Sansa's nightmare; after being forced to marry into the family that murdered her family, she is raped by her husband on her wedding night. To make things worse, Theon Greyjoy is forced to watch it.
This isn't the first time the show has gone off the original source material and shown the rape of a protagonist. Fans and critics too are not new to the intense and disturbing elements that "Game of Thrones" has shown in the past.
But this time, fans and critics seem to be livid and no longer willing to take it lying down. They feel the creators have crossed the limits with the Sansa rape scene.
The much-talked about, controversial rape scene differed from the work of George RR Martin, whose novels are the basis of "Game of Thrones." In Martin's work, a different character marries Ramsay and is sexually assaulted by another man at Ramsay's direction.
Amid the backlash, the author has come to the rescue of the show's creator. He wrote on his website that the TV and book versions of "Game of Thrones" were different and small changes TV producers make can swiftly become bigger.
"There have been differences between the novels and the television show since the first episode of season one. And for just as long, I have been talking about the butterfly effect....There has seldom been any TV series as faithful to its source material, by and large...."
Of the show's creators, Martin wrote, "David [Benioff] and Dan [Weiss] and Bryan [Cogman] and HBO are trying to make the best television series that they can."
Among those condemning the rape scene on HBO's fantasy drama is US senator Sen. Claire McCaskill.
On Tuesday, she tweeted to describe the sexual assault as "gratuitous" and "disgusting."
Ok, I'm done Game of Thrones.Water Garden, stupid.Gratuitous rape scene disgusting and unacceptable.It was a rocky ride that just ended.

— Claire McCaskill (@clairecmc) May 19, 2015
Guardian columnist Jessica Valenti said that she was done with the show as the writers went out of the way to show sexual assault.
GoT went out of their way to write in a sexual assault of a character. I'm done: done with rape as a plot device, done with this show.

— Jessica Valenti (@JessicaValenti) May 18, 2015
Another name on the critics' list was pop culture website The Mary Sue, which said that it would no longer promote "Game of Thrones" and said that rape is not a technique to drive a story.
Other fan reactions:
Ok this is never meant to happen to Sansa Stark. @GameOfThrones is about to lose me. #TheNorthRemembers #GameofThrones" tweeted @jamietarabay
There was no need to do that, #GameOfThrones writers. Rape is a serious and traumatic issue. Stop using it merely for mindless shock-value!" wrote Jay Thomas on Twitter.
HBO #GAMEOFTHRONES IS RAPE OBSESSED AND ITS A PROBLEM AND IT NEEDS TO STOP," tweeted an angry @AngryGoTFan.
Really. I think tonight's #BlackWedding was way more disturbing than the Red Wedding. By a lot. #GameofThrones" wrote Hayes Brown on his wall.
Game Of Thrones really needs to stop with all the shock value rape scenes that aren't even in the original books. #DemThrones #GOT" posted @MatthewACherry.
The next episode of "Game of Thrones" season 5 will be aired on Sunday on HBO.