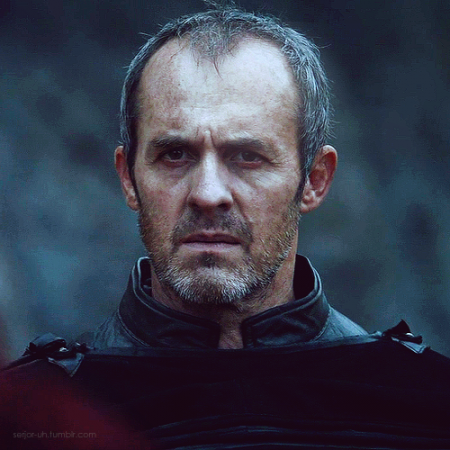 The character Stannis Baratheon lost a number of supporters soon after the penultimate episode of the season aired last Sunday, as it showed him burning his only daughter Shireen to please the Lord of Light.
The red priestess believed that Stannis burning his only daughter would guarantee his victory as he attacks Winterfell. Although he was initially hesitant, the attack by Bolton troops changed his mind, leading to Shireen being sacrificed.
And it looks like he has already started regretting his decision, as a still from the finale shows him looking displeased about life as Melisandre stands by his side. It looks like she is urging him to march forward and reclaim what is his.
Weiss spoke about the unsettling scene, telling Entertainment Weekly that "Horrible things happening to people in this show, and this is one that we thought was entirely [narratively] justified. It was set up by the predicament that Stannis was in. It will be awful to see, but it's supposed to be awful."
A still from the finale also shows Sansa looking terrified. The cause of her worry is yet unknown but it looks like Stannis finally reaches Winterfell. Chances are we would also get to see more of Brienne and Pod, and how Theon struggles with his allegiance to Ramsay and his desire to help Sansa.
The other photos from the finale episode show Cersei kneeling before the High Sparrow, Jon Snow and Sam probably discussing the next course of action, Daenerys' party awaiting her return, and Jaqen H'Ghar looking annoyed.
The finale is titled "Mother's Mercy," and the episode is written by showrunners David Benioff and D.B. Weiss and directed by David Nutter.
The synopsis of the finale reads: "Stannis marches. Dany is surrounded by strangers. Cersei (Lena Headey) seeks forgiveness. Jon is challenged."
"Game of Thrones" season 5 finale will air on 14 June.