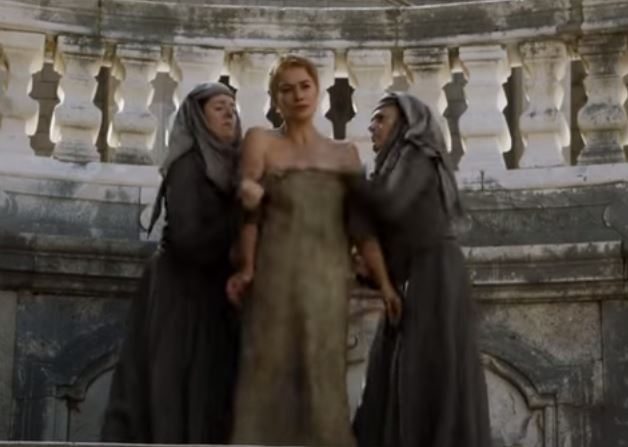 No "Game of Thrones" fan can deny the fact that the "Cersei Walk of Shame" in the season 5 finale was epic.
Viewers praised not only the creators, writers and director David Nutter for the exceptionally disturbing and cringe-worthy "atonement walk", but also raved about brilliant actress Lena Headey, who bravely walked nude amid jeers, hurling food, liquid and derogatory terms; until they found out that "GoT" used a nude body double by the name of Rebecca Van Cleave for Lena Headey in the nude scene.
Although a few fans were impressed by the show's CGI effects team, many felt cheated that Headey did not go nude herself. In her defense, Headey chose not to be nude, mainly because she wanted her focus to be completely on the emotions of Cersei, she told EW.
Paying heed to her legitimate demand, the show-runner announced a casting call, to which over 1000 actresses responded and among them was Rebecca Van Cleave, who went on to play Cersei's body double in the six-minute sequence.
"We needed somebody who could do The Walk of Shame physically, somebody who could match Lena's integrity, intensity and sensibility," said Nutter before adding, "We found a tremendous actress in Rebecca; she was a godsend. The courage of this girl, who's never done anything like this in her life, who understood what was important about this ... once I had her I felt like I could accomplish anything."
Van Cleave is on cloud nine too, and assures that although she was naked, it was the most comfortable casting she has ever had: "The first time I took off the robe there was all this anticipation building up to it. But it's such an emotional experience for Cersei, you almost check out of the fact that you're nude. You're so in touch with the scene and what you're going for."
She was also very defensive about Headey, who walked Van Cleave through each shot and gave her insight into Cersei's mindset. "Lena put her heart and soul into that scene. It should all be about the finished product, not about whose body was where and and whose head was where."
And, there is no denying that the finale product was spectacular.
Were you dissapointed that Cersei's walk of shame involved Lena Headey and Rebecca Van Cleave?