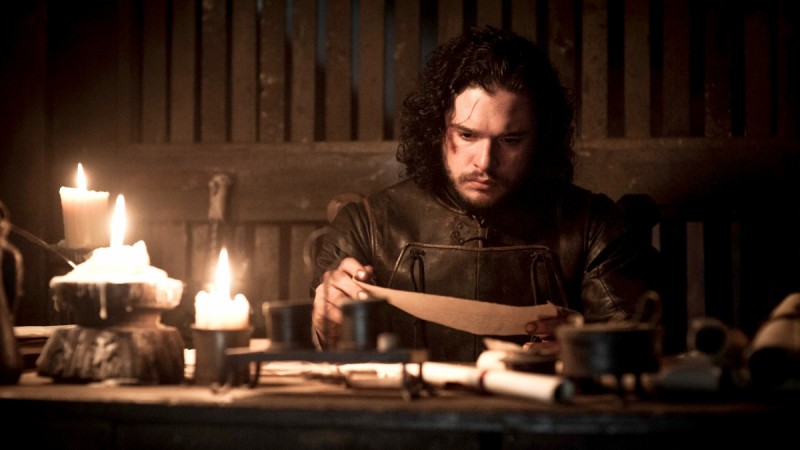 There are many theories on what will happen to Jon Snow in the finale of "Game of Thrones" season 5, with many suspecting that he will meet a similar fate as in George R R Martin's book.
And this theory gained traction recently after a photo, supposedly from the finale entitled "Mother's Mercy," showed Jon lying in a pool of blood with a scar on his face. Speculations are also rife that he would somehow warg into Ghost, his direwolf, prior to his death.
The authenticity of the picture has not been verified, therefore it is not immediately known if such a scene is present in the finale.
The Wildlings' arrival at Castle Black causes a lot of tension between Jon Snow and his brothers, and if everything mirrors the events in Martin's book, his comrades would stab him and leave him to die. According to chatter on Reddit, Olly could be the one to betray Jon.
Season 5 of "Game of Thrones" has diverged from Martin's books, and even fans of "A Song of Ice and Fire" series are clueless to what awaits them in the finale. But it is a guarantee that deaths will be a part of "Mother's Mercy" and the fate of fan-favourites are in jeopardy.
One has to only look at the Red Wedding to know that "Game of Thrones" doesn't shy away from killing characters who seem important in the grand scheme of things.
So will Jon's apparent death be the final scene of season 5? Showrunners David Benioff and D.B. Weiss previously mentioned that the last scene of the season will be a book scene.
As readers familiar with "A Dance with Dragons" know, the book ends with Kevan Lannister's murder. Kevan returns to King's Landing in a bid to restore order after months confusion stemming from Cersei's mismanagement.
He then goes to Pycelle's room and finds the Grand Maester dead. Soon, he too is murdered with a crossbow and Varys steps out of the shadows.
"Game of Thrones" season 5 airs Sunday on HBO.