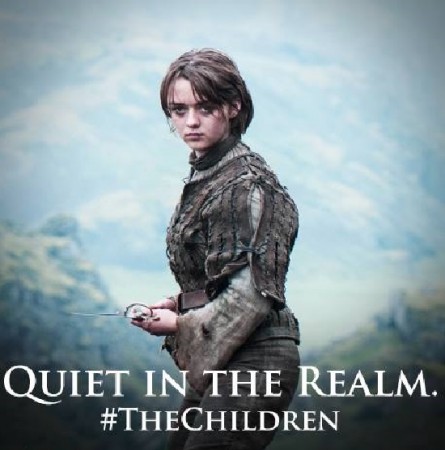 A satirical article, which claimed that five million people have been arrested for watching the season 4 finale of popular HBO TV series "Game of Thrones" through illegal streams, has gained mass popularity.
The hoax has gone viral, and several Facebook users seem to have fallen for the spoof. The story, which was posted on satire website The Onion, has raked up a debate on online illegal downloads.
The fictional report read:
"'Wow, you expect some major shakeups in the final episode of the season, but that part right at the end when the FBI kicked in my door and told me to get on the ground? I did not see that coming at all,' Boston resident Peter Herzfeld said of the surprise season-ending turn, which left millions of die-hard fans of the fantasy series in a state of astonishment and disbelief as they were handcuffed by federal law enforcement officials and charged with violating intellectual property law by using BitTorrent and similar file-sharing services."
Several Facebook users fell for the arrest spoof.
"For a second I didn't realize this was The Onion and nearly s*** my pants in fear," wrote FB user James Florence Jr.
"Damn you Onion!! You got me!! Thought this was legit. Meh," posted Sandi Alasse Tiwele Draeger.
"The thing that makes that believable at first is the fact that the US government does b*** s*** like this. Cause corporate goons making 30$ a DVD is so important our tax money is used by the billions to prevent these "losses" from happening. We pay billions to save them millions," pointed out Baruch Merl, expressing his angst towards illegal download laws.
Game of Throne Season 4 Creates History
As per Torrent Freak, the fourth season of "Game of Thrones" has been the most viewed TV series, both through authorized channels and piracy, in the history of television shows.
The season finale of "Game of Thrones" set a new piracy record, with a quarter million people sharing a single file at the same time. It is estimated that the season has seen over seven million illegal downloads, while "The Children" was the most viewed episode.
Pay TV Companies Demand Stronger Laws
Hurt by the surge in the number of illegal viewership, Foxtel - an Australian Pay TV Company - has approached the federal government to introduce laws to literally arm-twist internet companies, or ISPs, to block illegal download methods and send warning letters to offenders, it has been reported.