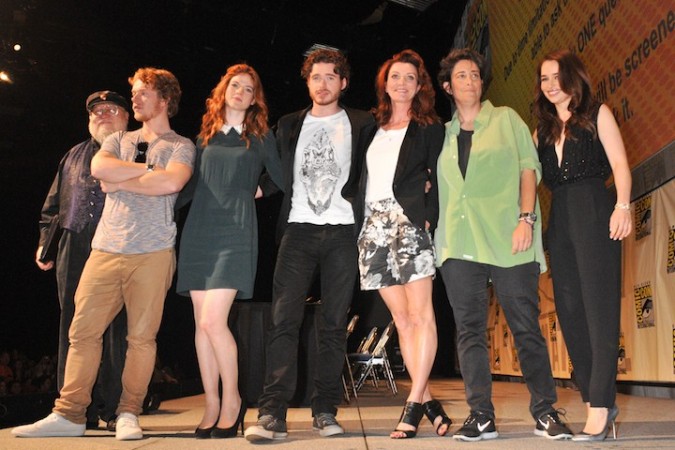 When season 4 of the "Game of Thrones" premieres on HBO on Sunday, fans of the show will have to brace themselves for more blood and deaths.
Rumors have it that no major character will be safe and that the bloodbath at the Red Wedding was just a hint of what is to follow.
"There's a huge power shift certainly in Season 4 and going into Season 5," Michael McElhatton, who plays Roose Bolton on the HBO fantasy series, explained to E! News. "It should be exciting. Nobody is safe on 'Game of Thrones.' No character is too big to die."
While it is too soon to say who will die, speculations are rife that several important characters such as Daenerys Targaryen, Jaime Lannister, Jon Snow, and even Arya are not safe.
But one hated character who will surely go down this year is Joffrey Baratheon, played by Jack Gleeson. The spoiled boy-king is expected to die on his wedding day after being poisoned, if the series follows the book.
While "A Storm of Swords" does not reveal who the actual killer is, suspicion is cast on Olenna Tyrell as well as Margaery. Viewers are hopeful the show might reveal who the actual killer is.
Baratheon's death is expected to take place in the season's second episode titled "The Lion and the Rose" and fans are ecstatic about the death.
If Joffrey Baratheon doesn't die this season I'm going to cut my own arm off! @HBO @skyatlantic #GameOfThrones

— Callum Smillie (@calsmillie) April 5, 2014
Dear God please do not let anything happen to Tyrion Lannister this season. Please. Please. Please. And let Joffrey Baratheon die. Please — The Madam-Editor (@TheMadamEditor) February 10, 2014
YES, KING JUSTIN BIEBER (Joffrey Baratheon) WILL DIE HAHAHAHAHA

— 死者の女王 Drinna (@yodrdrp) April 5, 2014
The upcoming episode is titled "Two Swords" and the official synopsis states that while Arya runs into an old friend, Dany is heading towards Meereen, a slave city. But she finds herself in the midst of enemies, and her life is under great risk, according to the episode's preview.
The official synopsis of "Two Swords" reads: Tyrion welcomes a guest to King's Landing. At Castle Black, Jon Snow finds himself unwelcome. Dany is pointed to Meereen, the mother of all slave cities. Arya runs into an old friend.