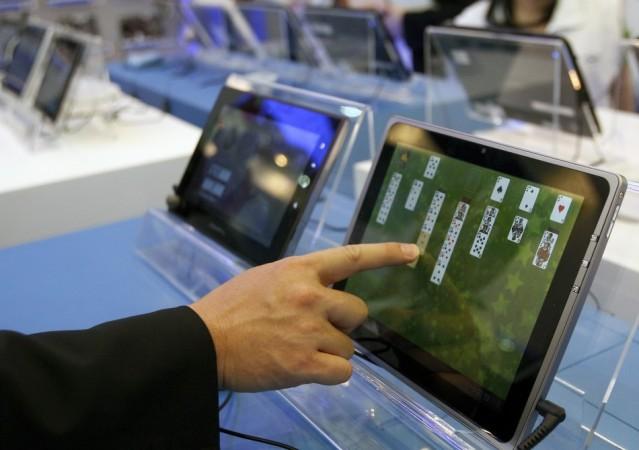 South Korean electronics giant Samsung recently launched the 8-inch Galaxy Note tablet PC in a bid to counter Apple's 7.9-inch iPad mini market share.
Samsung's new tablet's Voice calling ability makes it an appealing device, but does the Galaxy Note 8.0 pack enough ammunition to take on Apple's record seller.
Here is Specification comparison table to check how Samsung's Note 8.0 fares against Apple's record selling iPad mini:
Model

Samsung Galaxy Note 8.0

Apple iPad Mini

Display

8.0-inch WXGA TFT display with 1280x800p resolutions

Pixel density: 189 pixels per inch(ppi)

7.9-inch LED back-lit

Multi-touch IPS display,1024x768p

Pixel density: 163 ppi

OS

Android v4.1.2 OS (Jelly Bean)

Apple iOS 6.1.2

Processor

Quad-core A9 processor with

1.6GHz CPU speed

Apple Dual-core A5 2ndGeneration chip set

Memory

Available in 16GB & 32GB,

Expandable up to 64GB

Available in 16GB,32GB & 64GB flash memory

Camera

Rear: 5.0-megapixel camera

Front: 1.3-megapixel camera

Rear:5.0-megapixel camera

Front:1.2-megapixel camera

Connectivity

Wi-Fi 802.11 a/b/g/n(2.4 & 5GHz),Wi-Fi

Direct, Bluetooth v4.0, USB v2.0,

Wi-Fi (802.11 a/b/n),Bluetooth v4.0 wireless technology

Battery

4600 mAh Li-ion battery

16.3 W/H rechargeable battery

Price

Not yet available

Price range from ₹21,500 to ₹41,500 depending storage capacity and cellular connection.
Remark:
With no retina-display to boast, iPad mini loses some points over Galaxy Note's display density of 189 ppi. Samsung tablet's quad-core processor further extends its lead over the Apple device which packs a slower dual-core A9 processor.
In terms of mobile operating system, Galaxy Note 8.0 is expected to come with Android 4.1.2 Jelly Bean out-of-the-box, where as iPad mini has received the updated iOS 6.1.2 OS. The devices stand even in this department as both platforms boast a huge collection of apps.
In terms of shear spec comparison, Samsung's Galaxy Note 8.0 does hold an upper hand over Apple's iPad mini, which was released in November last year. But it remains to be seen on how Galaxy Note 8.0 would fare against the next generation iPad mini 2 which is expected hit markets in a few months.