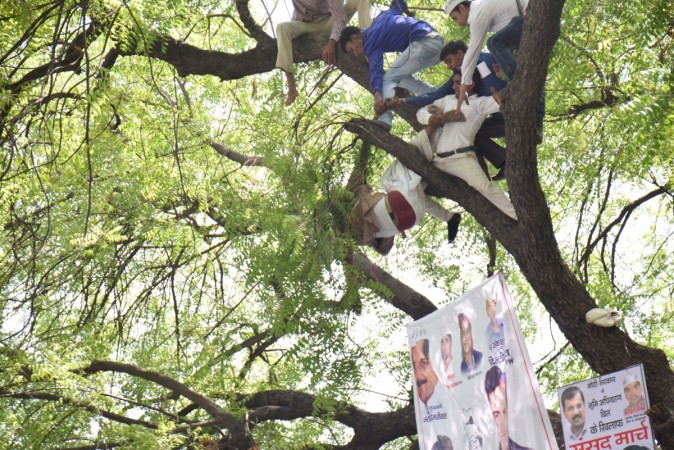 Even as Gajendra Singh's death at the AAP farmers' rally on Wednesday created a ruckus in Parliament on Thursday, the Aam Aadmi Party (AAP) has been blamed for 'instigating' the 40-year-old Rajasthan farmer to commit suicide in an FIR filed by the Delhi police.
Inspector SS Yadav, who was on duty at the AAP rally on Wednesday, is quoted in the FIR as saying that AAP workers and leaders 'instigated' Singh and prevented firebrigade vehicles from reaching near the tree, according to Zee News, which claims to have accessed a copy of the FIR.
"I informed the control room on wireless and asked AAP workers and others to climb up the tree and rescue Gajendra. We asked AAP workers to help the person and also to make way for the rescue vehicle. They continued to say that police was against AAP and is not allowing us to go ahead with our rally," the news channel said, quoting from the FIR.
AAP leader Kumar Vishwas has however refused the claim and said, "Your channels have the footage, you can show the truth what happened. Did we stop the police from doing their work?"
The AAP Kisan rally at Jantar Mantar was organised to protest against the amendment proposed in the Land Bill by the BJP-led NDA government.
Gajendra Singh was one of those several farmers who had suffered crop loss due to unseasonal rains recently.
During the rally attended by about 3,000 farmers, when the AAP convener and Delhi Chief Minister Arvind Kejriwal was addressing the farmers, Singh was spotted on a tree near the stage, trying to hang himself. People climbed the tree to bring him down but it was too late; he had already tied his neck with a towel and was hanging from the tree.
He was rushed to the RML hospital where was declared 'brought dead.'
However, his suicide is suspected to be an accident. The position in which AAP members found Singh's body on the tree indicated he had not intended to commit suicide, but he accidentally hung himself, The Times of India reported.
The Delhi police registered a case under section 306 IPC (abetment of suicide) and causing death due to accident (304A) and section 186 (obstructing policemen and public servants).
The statement from his family has also pointed to suspicion if he actually had intentions to kill himself. While he was being brought down from the tree at about 1.50 pm, a note fell from his pocket. In the note, he said that he had suffered major crop loss following which he was thrown out of the house by his father. He had said that nothing was left in his life to return home.
However, the Dausa district administration claims otherwise.
"Loss to crops does not appear to be a reason of suicide. His family's financial condition is fine and they have farm houses and his uncle is the local village sarpanch," India TV News quoted Dausa's Additional District Collector Kailash Sharma as saying.
While the Collector said Singh was financially sound, the deceased's family claimed that New Delhi's Deputy Chief Minister Manish Sisodia invited him to Delhi to participate in the rally.
"They (AAP) didn't stop their program. No one has called us so far... but to invite him for the rally, they made several calls. He was close to Manish Sisodia of Aam Aadmi Party. He had called him and asked to attend the rally. He had assured him of all support. He had also said that if Gajendra comes for rally, it would help other farmers," a relative Jayveer Singh said.