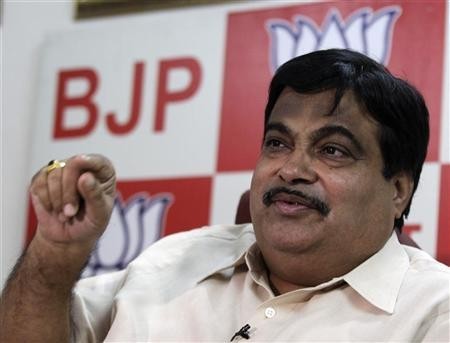 Union Minister Nitin Gadkari on Monday denied probe into alleged bugging at his official residence and said that no listening device has been found from anywhere in his house.
However, Road and Transport Minister Nitin Gadkari took to Twitter on Monday to clarify the fuming row over the news reports on bugging at his New Delhi residence at 13 Teen Murti Lane, to which he had earlier referred to as "highly speculative."
As already stated, I reiterate that no devices were found at my residence anywhere

— Nitin Gadkari (@nitin_gadkari) July 28, 2014
While Gadkari on the one hand denied snooping reports, an NDTV report, on the other hand, claimed on Tuesday that the houses of External Affairs Minister Sushma Swaraj and Home Minister Rajnath Singh is suspected to have been bugged too, which has been reportedly denied by BJP spokesperson Nalin Kohli, along with party's refusal to carry out probe into reports suggesting recovery of listening devices from Gadkari's residence.
The Congress had earlier insisted that BJP must clarify the news reports in a Parliamentary session. While Congress General Secretary Digvijay Singh reportedly demanded that the investigating agency should carry out probe into the matter citing that such an incidence is a threat to the security of the country.
Home Minister Rajnath Singh and State Affairs Minister Kiren Rijiju both denied a probe citing that Gadkari has himself refuted the snooping reports.
"The Minister himself has said the reports are speculative... How can we comment on it?" The New Indian Express quoted Rijiju.
Reacting to the allegations, BJP's media person Shrikant Sharma reportedly said that out of frustration, Congress is using the "baseless" issues to undermine BJP's status.
Congress' allegations
Following the news reports of snooping at Gadkari's residence, Congress reportedly said the incident reflects the lack of mutual trust within the party. Former Prime Minister Manmohan Singh had demanded probe and asked BJP to address the matter in the Parliament.
Later on Monday, Congress established links between the present reports and the alleged snoopgate case in Gujarat, where Amit Shah allegedly ordered the Gujarat police to put a woman under surveillance.
"This used to happen in Gujarat... Now the days of snooping have come even in Delhi. It seems its architects have come here as well," Zee News quoted All India Congress Committee spokesperson Shaktisinh Gohil.
"A DGP of Gujarat had said that 90 thousand phones in Gujarat were tapped illegally. There was a time people used to say that phone tapping happens in Gujarat on a mass scale. It seems that Gadkari's house was being snooped upon...Truth must come out," he added.